Texas Trust CU Theatre | Grand Prairie, Texas
The Temptations and The Four Tops conjunct as a classic Motown double-header at Texas Trust CU Theater on Friday, 27th of October, 2023! They are absolute legends in music history who pioneered the R&B genre and became trailblazers in the entertainment industry for African Americans. The five-time Grammy Award winners, the Temptations soared to the top of Billboard's Hot 100 chart 53 times with four Top-1 hits. Their co-headliner, Four Tops, rocketed themselves to fame overnight with their breakout hit "Baby I Need Your Loving". Friday night will be a back-to-back performance of these two groups of legends, performing some of their immortal songs from their extensive catalog from several decades of their career. Texas Trust CU Theater, a state-of-the-art concert and theatrical venue, will serve as a backdrop for the slick rhythms and solid soul revue. Get yourself an unforgettable experience and purchase your tickets now!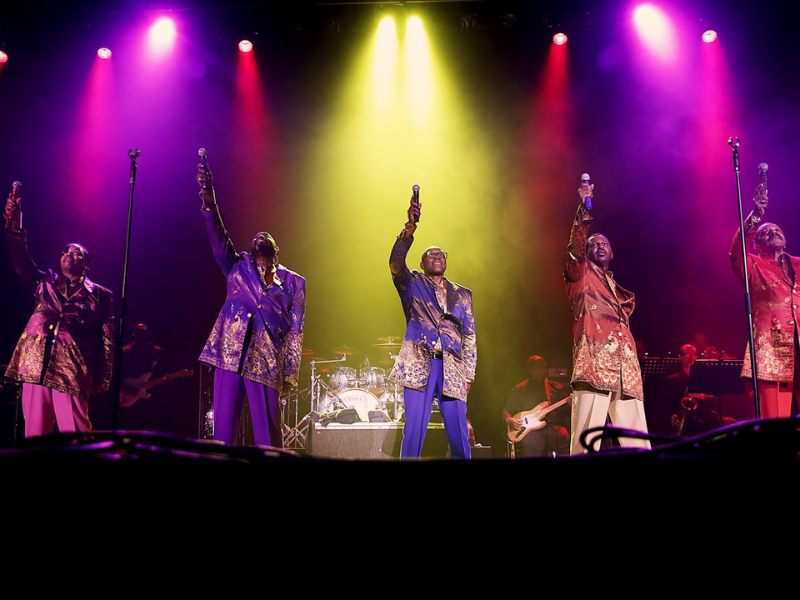 The Temptations was initially a five-man lineup formed as a merger of two local vocal groups, The Primes and the Distants, back in 1961 in Detroit. The principal members included Otis Williams, Paul Williams, Melvin Franklin, Eddie Kendricks, and David Ruffin. After changing their name from the Elgins to The Temptations, they signed with Motown. They had a slow start, but they became paragons of sleek fashion and practiced athletic choreography. Their performances were the epitome of "sophisticated cool".
Throughout their career, The Temptations gained numerous accolades, including three Grammy Awards, four Billboard Hot 100 number-one singles, and fourteen number-one singles for R&B. Among the Motown recording acts, they were the first to win a Grammy. Six members (Edwards, Franklin, Kendricks, Ruffin, Otis Williams, and Paul Williams) became part of the Rock and Roll Hall of Fame in 1989. On Rolling Stone magazine's list of the 100 Greatest Artists of all time, they were ranked at 68. They are known for their impeccable harmonies, a long list of hits to their name, and fine-tuned choreography. The Temptations are currently in their 62nd year with Otis Williams, the remaining founder in the lineup.
Co-headliner, The Four Tops plays a different story. They teamed up in high school in 1953 and continued to go for four decades without any personnel change. They changed their game by having deep-voiced Levi Stubbs in the middle of the spotlight when other R&B vocal groups fronted a tenor. Duke Fakir, Obie Benson, and Lawrence Payton served as the smooth vocals to fill the essence of pop-soul. When they signed with Columbia in 1960, the group was directed to a more upscale supper-club flair, performing jazz and pop and touring with Billy Eckstine. In 1990, Four Tops was inducted into the Rock and Roll Hall of Fame. They are known for their soul spectaculars "Ain't No Woman (Like The One I've Got)", the scream-a-long "Reach Out I'll Be There", and "I Can't Help Myself (Sugar Pie Honey Bunch)," among many others. Currently, some younger vocalists have been welcomed into the current lineup, but founder member Duke Fakir remains a commanding presence.
Texas Trust CU Theater will serve as a backdrop for The Temptations' smooth harmonies and intricate choreography and The Four Tops' soulful deep vocals. It will surely be an exciting show with state-of-the-art amenities, sound, and lighting technology! Don't miss the Billboard's Greatest R&B/Hip-Hop Artists of All Time! Hurry and purchase your tickets now!