Texas Trust CU Theatre Seating Chart
Guests can enjoy an unparalleled level of intimacy and comfort wherever they sit at Texas Trust CU Theatre (formerly Verizon Arena at Grand Prairie) – that's what keeps them coming back show after show!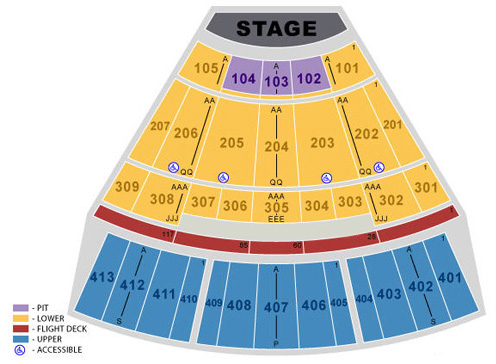 The venue's goal is to ensure that guests are as comfortable in Texas Trust CU Theatre as they would be in their own homes. To this end, guests are offered plush seats, with padding on the bottom and the back, that provide 2-3inches more room per seat than other theatres and areas.
Cup holders are also available on every seat, to keep guests refreshed! The venue also provides front row mezzanine seats with an extra high back for maximum comfort, called the "King's Row".
For guests with disabilities, accessible seat tickets are available for every ticketed event via the normal purchase process. These wheelchair accessible seats are located on row QQ of sections 202, 203, 204, 205, & 206, and one companion is allowed per wheelchair seat.