Texas Trust CU Theatre at Grand Prairie
The soulful voice of love is back! Singer, songwriter, and guitarist Boz Scaggs has officially announced that his 2021 concert dates are pushing through in September through October. One of his highly anticipated shows is Boz Scaggs' one-night-only engagement at the Verizon Theatre at Grand Prairie on Wednesday 29th September 2021. This 77-year old is a show master who can hold the audience in the palm of his hand. Truly a seasoned performer who gets better with age. Check out tickets to this show on this site by clicking on that 'Get Tickets' link. Tickets are available now!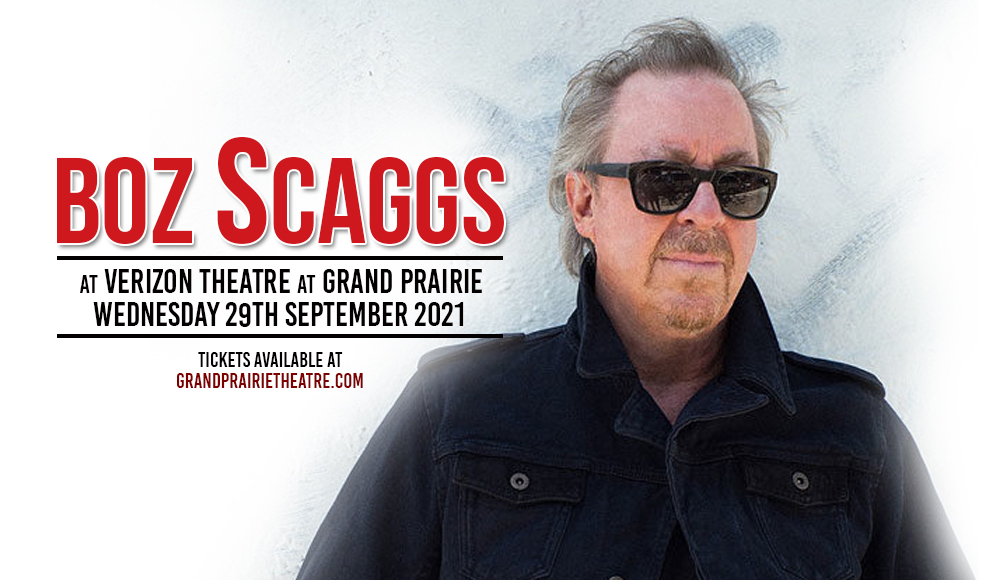 Boz Scaggs has been active in the music scene since 1963, with his heydays in the 70s. Chapters in his career are marked by him being a member of groups like Marksmen and the Steve Miller Band, and his work as a solo artist. Either way, he has brought his unique vocal prowess which is a fusion of rock, blues, and jazz.
In 1976, he got in the studio with session musicians. This serendipitous recording session spawned two significant music milestones. The session band members formed the iconic band Toto; and the Boz Scaggs album from that recording was none other than the massive breakthrough album "Silk Degrees". This became Scaggs' signature hit that peaked at No. 2 on the US Billboard 200 and hit #1 in numerous countries. The album's success was driven by four hit singles: "It's Over", "Lowdown", "What Can I Say", and "Lido Shuffle",as well as the poignant ballad "We're All Alone". And as if these were not enough, the album received a Grammy nomination for album of the year and a further nomination for Joe Wissert as Producer of The Year.
Boz Scaggs carried on with his Midas touch as he produced more hit singles like "Breakdown Dead Ahead" (No. 15, Hot 100) and "Jojo" (No. 17, Hot 100)", and " Look What You've Done To Me", a top 20 hit from the soundtrack for the movie Urban Cowboy.
Boz Scaggs tirelessly tours the world performing onstage and still has the energy to make new music. His latest album, "Out of the Blues", was released in 2018.
"Music has been a constant companion and I'm feeling more free with it than ever. I feel like I've found my voice through all these years, and I've gotten closer to where I want to be with my approach."
This time, Boz Scaggs takes his voice to the live concert stage — the best place where his loyal followers want to hear and enjoy his timeless music.
Click on the 'Get Tickets' link to book tickets to this amazing show to enjoy with friends, family, and loved ones.