Texas Trust CU Theatre | Grand Prairie, Texas
The R&B band who has gifted the world with songs like "I'll Make Love to You," "End of the Road," and "One Sweet Day" is back on the road to take you on a sensual music journey! On May 14, R&B sensation Boyz II Men will be bringing their R&B prowess to the Texas Trust CU Theatre. Since the 90s, the boy band consistently brought with them flawless and impeccable music due to their mesmerizing vocal harmonies, ballads, and a capellas. With their "hip-hop doo-wop" signature style, people just can't get enough of them. With their tour this year, Valentines will be experienced all year round, and in Grand Prairie, it is extended to May 14! Love will be in the air. Hearts will swoon as they perform their classics like "On Bended Knee," "Motownphilly," "Water Runs Dry," and "If You Leave Me Now." What better way to spend this concert than snuggled with a loved one? Ticket sales have already started. Buy yours now before they run out!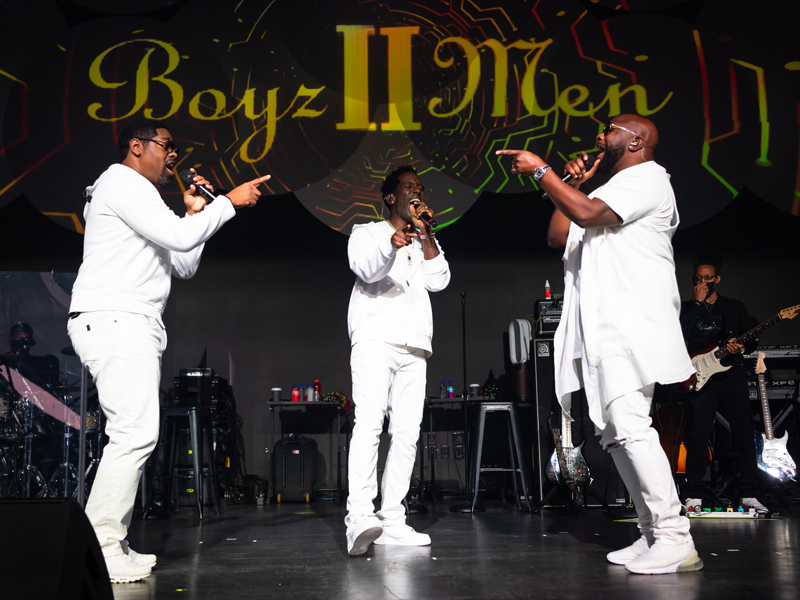 Considered by RIAA as the best-selling R&B group ever, Boyz II Men brought a buzz to the R&B scene with vocal harmonies, ballads, and a capellas responsible for the many big pop hits of the 90s. Their enduring brand, which they call "hip-hop doo-wop" has brought them over 60 million records sold with over 13 albums released. Their huge impact includes reinventing the genre and being named the biggest boy band from 1987 to 2012. Currently, Nathan Morris, Shawn Stockman, and Wanyá Morris comprise the band.
Before they were called Boyz II Men, the band first used the name Unique Attraction. Their beginnings can be traced back to the Philadelphia High School for the Creative and Performing Arts (CAPA) in 1985. They were inspired by the legendary R&B group New Edition, which put out irresistible harmonies. The name "Boyz II Men" came to be after the song "Boys to Men" by New Edition. In 1989, all stars aligned for the group when they were discovered by New Edition member Michael Bivins. The then-quintet boy group went through conflict, which concluded with founding member Marc Nelson leaving. The four remaining members, Michael McCary, Nathan Morris, Wanyá Morris, and Shawn Stockman, would go on to become the biggest names in R&B in the 90s.
Their debut album, "Cooleyhighharmony," was realized in 1991 and produced by Michael Bevins himself. Unlike other R&B groups, all members are lead vocals, which has become their trademark. The album was well-supported, and to no one's surprise, it was a huge hit. It sold over copies of over nine million and brought the band their first Grammy win for Best R&B Performance by a Duo or Group with Vocals. The next year, they released a Christmas album entitled "Christmas Interpretation," which widened their reach to more listeners. Their second album, "II," came out in 1994. It made an instant mark as one of the best-selling albums in R&B history, selling over 12 million copies. This album brought them two Grammy wins. Three years later, "Evolution" came out to a lesser success than the past two albums. They would release nine more albums years after.
The R&B elite band is on tour this year. You should see them live at the Texas Trust CU Theatre on Sunday, May 14. Singer-songwriter and "Still" singer Tamia will open for the trio. Also joining in is Kenny Lattimore, best known for his soulful songs like "For You." Hit the "Get Tickets" link to get tickets for this concert!