Texas Trust CU Theatre | Grand Prairie, Texas
EVENT CANCELLED. Please contact your ticket point of purchase to claim a refund on your tickets.
The one and only "El Rey del Acordeon" or The Accordion King, Ramon Ayala, takes the stage at Texas Trust CU Theater on Saturday, July 29, 2023! With talent honed from a young age and more than five masterful decades of music, Ramon Ayala has transformed the Norteño music with his unique playing style and masterful storytelling. His prolific career paved a way to both sides of the El Rio Grande, becoming part of each person's soundtracks to their important days of their lives from birth to death, from marriages to breakups, from beginning to graduation. This perfect Saturday night with raw emotions and an unforgettable performance. This event will take place in Texas Trust CU Theater, one of the hottest spots for entertainment. Its state-of-the-art theatrical venue will surely give you an exciting experience. You can't miss the special performance of Mexico's national treasure, so make sure to buy your tickets now!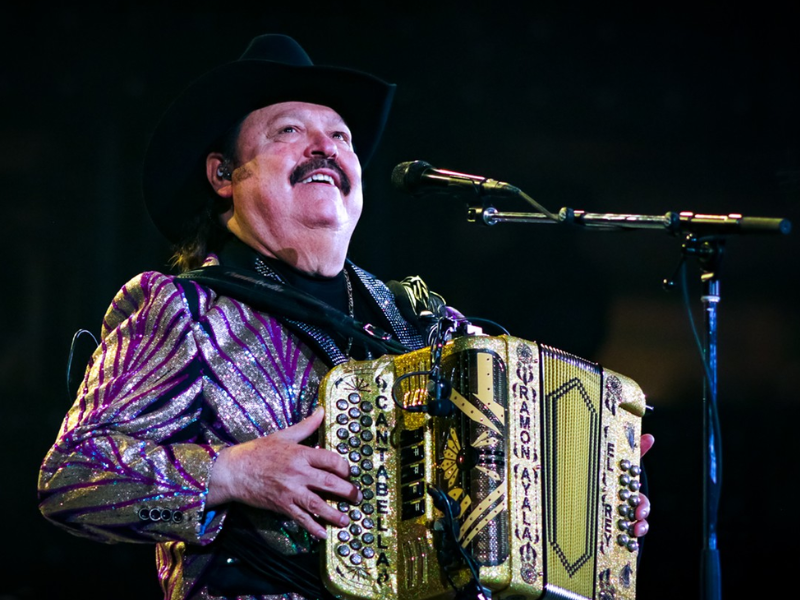 Ramon Ayala is best known as "El Rey del Acordeon" or The Accordion King. While some may argue that there are better accordion players and Ramon Ayala is at the age where most artists would be in their retirement, his career continues to prove them wrong. For the past fifty years, he has managed to put out 105 albums, a feat that most artists will call impossible. Ayala also adds electric guitars and drums to his music while retaining the northern ranchera style. He has flawlessly redefined Norteño music, and his unique playing style always brings people towards him.
Ramon Ayala's career began at a very young age, influenced by his father, Ramon Covarrubias, also a musician. His performance in different public places helped him earn money for his modest family. Los Jilgueros de Marin was his first band, then later on joined Los Pavoreales.
Then he moved to Reynosa, where he met Cornelio Reyna. Together they formed Relampagos del Norte and introduced themselves to the world with their self-titled debut album that featured their hit single "Ya No Llores". After Cornelio Reyna's passing, the band was renamed Los Bravos del Norte or also known as Ramon Ayala y Sus Bravos del Norte. They recorded En Las Alas de un Ango A Cornelio Reynas as a tribute shortly after the musician's death.
By 1998 and the years moving forward, Los Bravos del Norte maintained busy years with numerous recordings and touring schedules, even issuing more than two records in just one year. Adding to that, many compilations of their songs also flooded the market. They have released titles that offered the classic norteño style in various ranges from love songs to rancheras, to corridos and dances. Ramon Ayala has record sales of around 750,000 units per year. It is not surprising that he has won many American and Latino Grammy's.
Ramon Ayala performs with his accordion like no other. The vibrant, classic music reels people in to express their emotions. This July 29, 2023, join us for a fantastic experience with the Accordion King at Texas Trust CU Theater at Grand Prairie. The venue boasts the highest standard of amenities as one of top premier choices for entertainment in the area. Grab this chance to have one of your best Saturday nights, so get your tickets now!