Texas Trust CU Theatre at Grand Prairie | Grand Prairie, Texas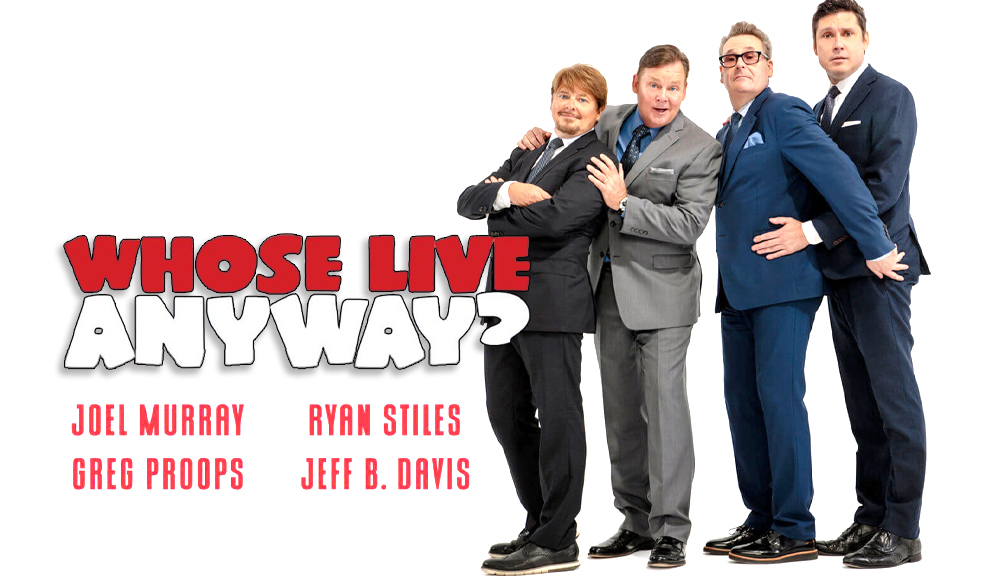 The cast members of the Emmy Award-nominated show "Whose Line Is It Anyway?" is bringing its acclaimed improv "Whose Live Anyway?" live specials to the stage at Texas Trust CU Theatre on Saturday, March 9th of 2024. Audiences can expect a 90-minute improvised extravaganza filled with hilarious banters and songs with the help of every audience. The unstoppable Ryan Stiles, Greg Proops, Jeff B. Davis, and Joel Murray will definitely get you laughing your socks off! You might even get the opportunity to join them right up on stage. The show will also feature various games made famous by its TV run. So, if you've been feeling kinda down these days, the "Whose Live Anyway?" boys are bound to brighten up your day with a slew of improv games, music, and conversations in store for the show. Audience participation is key, so better know what you're signing up for! Don't miss out by booking your tickets now!
The improv comedy that everyone loves is going live! Fresh from their Emmy Award-nominated show "Whose Line Is It Anyway?", Ryan Stiles, Greg Proops, Jeff B. Davis, and Joel Murray are owning the stage with a live improv spin-off, "Whose Live Anyway?". Marking a series of shows this year, the unstoppable bunch is set to lift spirits high up across North America. Featuring musical direction by Bob Derkach, the show is known for its improv games adopted from its TV special, hilarious conversations, and extreme audience interaction. Yep, everyone is a driving force to every live special's success.
"WHOSE LIVE ANYWAY? is 90 minutes of hilarious improvised comedy and song all based on audience suggestions," its press release shared. "Audience participation is key to the show so bring your suggestions and you might be asked to join the cast onstage."
A chance to head up on stage?!? You got that right! So, better note down your wittiest suggestions and ideas to snag that spot live on stage. Beyond its familiar traditions, Whose Live Anyway's newest trek is also sharing new games and antics for everyone to enjoy.
Its original TV special started filming new episodes for its 20th season, expected to air on The CW Network later this year. With new episodes to watch out for, you're given the chance to witness all its improv masterpieces live on stage on an extensive trek. Whose Live Anyway? They definitely are.
"Whose Line Is It Anyway?" spans over two decades since 1998. Its US version aired on ABC up until 2007 and was revived in 2014 on The CW Network. To this date, it continues to send joy and delight to its pumped-up audiences. Having been on tour since 2007, its members' synergy is purely authentic and delightful, mastering their improv craft.
"Ryan (Stiles) and I go back 30 years. So I don't really have to think about what he's going to do, because I know he's going to do something good," Proops shared, as cited from Post Crescent. With a rich history behind their improv antics, its live show is definitely one for the books!
If you're up for some fun and games, and a huge opportunity to shape a live improv show, look no further! Book your tickets now!