Texas Trust CU Theatre | Grand Prairie, Texas
Get ready as popping colors come to life at Trolls LIVE! where Poppy and her friends take you on a fun-tastic adventure to save Trolls' beloved Hug Time. Trolls LIVE! is taking over at Texas Trust CU Theatre to spread loads of glitter, fun, singing, dancing, and laughter. With Trolls' Hug Time on the line, Poppy is calling for some help, with you and your little ones dancing and singing your way to saving the day. It's time to surprise your kiddos by saving those seats now!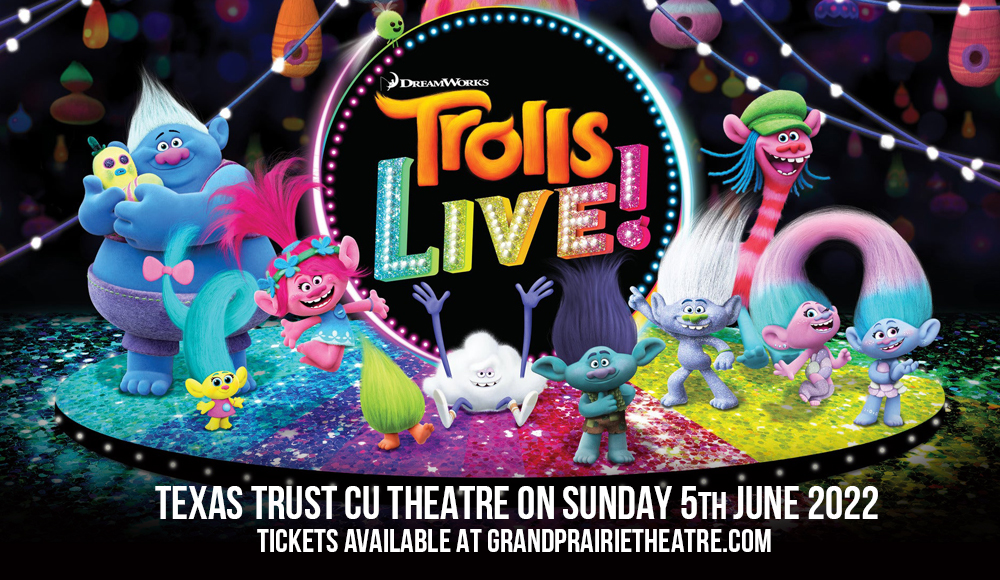 Poppy and friends Branch, Cooper, Satin and Chenille, Cloud Guy, Smidge, and many more are cheeky and colorful little creatures called Trolls from the hit 2016 film "Trolls" and its sequel Trolls (2020). Wearing a band with a flower, Pop Trolls are alerted every hour when it's time for "Hug Time". The friends all take their friendship as something highly important.
At Trolls LIVE!, Hug Time is put at risk, and what could save it is what Trolls do best – singing, dancing, and having fun through it all. Poppy and her friends are inviting you and the little ones to help them save their precious Hug Time.
Though a live production based from the hit films, Trolls LIVE! features a unique story that everyone will see for the first time, with the kiddos part of the story themselves, helping the Trolls out.
"It's an all-new adventure that follows a unique storyline. You don't need to be familiar with the movie or the TV show to follow along with the production," said Jose Amengual, a performer for Trolls LIVE!
"The trolls love hug time. They hug every hour on the hour," With Hug Time on the line, everyone's invited to sing along, tap their toes, dance, and laugh altogether as you take part in helping the Trolls save their Hug Time.
It's a mission of bringing hugs back at Trolls LIVE! Get ready to sing and dance long at Texas Trust CU Theatre on June 5th as the Trolls take over needing your help. Book those tickets now!