Texas Trust CU Theatre | Grand Prairie, Texas
An adventure that'll get your hair raised up high is back as the 'trolls just wanna have fun at Trolls LIVE! coming over at Texas Trust CU Theatre on Sunday, 4th of June 2022. With the Trolls' Hug Time put at risk, Poppy and friends invite you and your kiddos on a jam-packed adventure filled with laughter, songs, glitter, and fun that the Trolls do best. Join Poppy, Branch, Cooper, Mr. Dinkles, and all their friends at Trolls Live! Save your seats by booking those tickets now!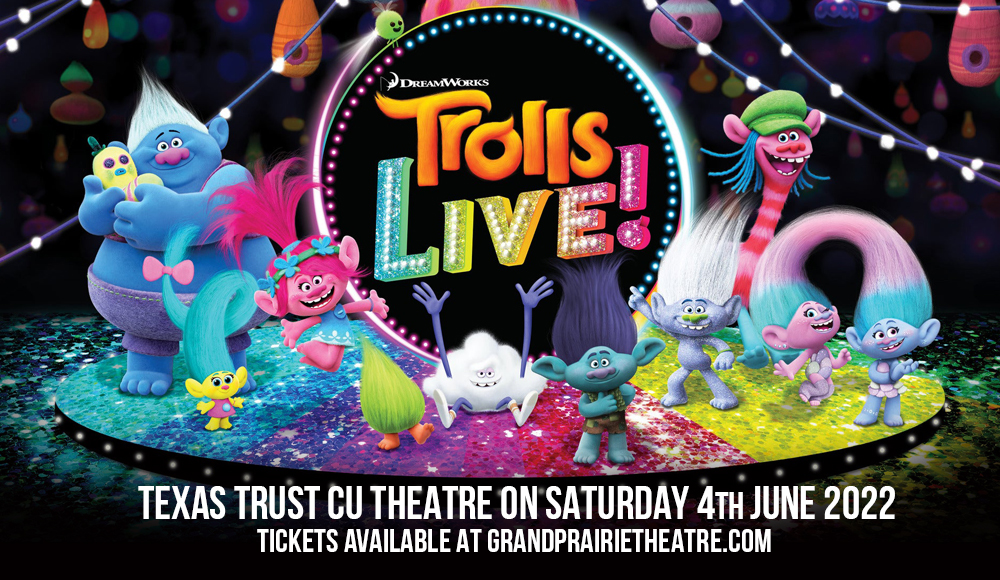 After a pause to its run due to the global pandemic, the Trolls are back to conquer the stage and save their Hug Time at Trolls LIVE! These cheeky and friendly creatures with soaring vocal cords have starred in two global hit films, Trolls (2016) and Trolls World Tour (2020). Trolls LIVE! is set to bring Poppy, Branch, Cooper, Smidge, Mr. Dinkles, and the rest of the gang on stage as they take you and your kiddos along on a troll-tastic adventure to save Trolls' Hug Time.
Expect a show full of singing, dancing, and laughing as the Trolls take you tap-dancing your way to save Hug Time. "The trolls love hug time. They hug every hour on the hour… We definitely encourage kids and everyone else to dance and sing along from their seats." said Jose Amengual, a performer for Trolls LIVE!.
Featuring characters from the hit production Trolls, this live tour promises a fresh storyline that'll get you and your kiddos on board to help Poppy and friends save their precious Hug Time!
"It's an all-new adventure that follows a unique storyline. You don't need to be familiar with the movie or the TV show to follow along with the production," said Amengual.
So, get ready to have the little ones sing, dance, and embark on an adventure of a lifetime at Trolls LIVE! Book your tickets now!