Texas Trust CU Theatre | Grand Prairie, Texas
"The Millennium Tour" is taking on a new turn as former B2K frontman Omarion is going on a solo trek. Yet somewhere along the way, he'll go head-to-head with an equally formidable rapper. Omarion and Bow Wow are teaming up on a "Face Off" as the main highlight acts of "The Millenium Tour 2020". The duo will be joined by returning Millenium tourmates, Pretty Ricky, The Ying Yang Twins, Soulja Boy, plus *Ashanti * — as the first female act to hop on this tour bus. That's a smorgasbord of rap, hip-hop, and R&B for right at the Verizon Theatre at Grand Prairie on Friday 3rd April 2020. Don't miss it!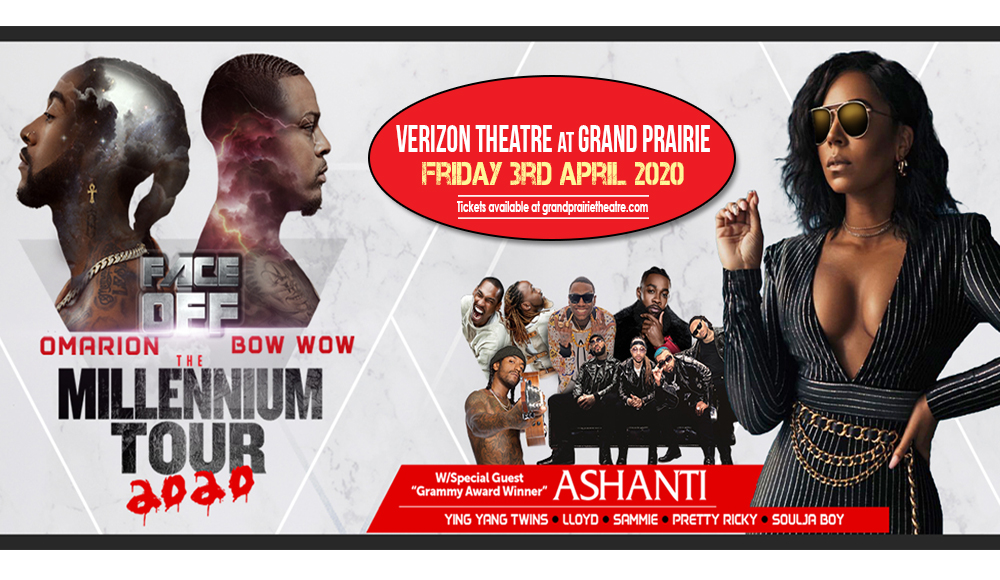 Omarion was in a career-high as he became one of the more popular members of American R&B boy band B2K, as the group achieved success in the early 2000s. Yet he envisioned success beyond B2K. Omarion is on to a new milestone. "2020 is my 20th year entertaining. Blood, Sweat & Tears," tweeted Omarion. "Always giving you the best that I got. Thank you for growing with me."
And as his way of giving back to his fans who have supported him the past two decades, while welcoming an onslaught of new followers, Omarion expands "The Milllennium Tour" into a "Face Off" with an equally quintessential rap artist "Bow Wow".
"The Millennium Tour" picks up where Omarion has left-off from last year, which was headlined by a reunited B2K. Due to some personal issues within the group, this tour has provided a new explosive twist to its featured artists. Omarion carried the cudgels and assembled a formidable line-up hot rap, hip hop and R&B hitmakers, namely Pretty Ricky, The Ying Yang Twins, Soulja Boy, plus *Ashanti * .
It's 2020 thus you're getting a clear vision of how this concert would go — a knock out show from start to finish! Book your tickets now!