Texas Trust CU Theatre at Grand Prairie | Grand Prairie, Texas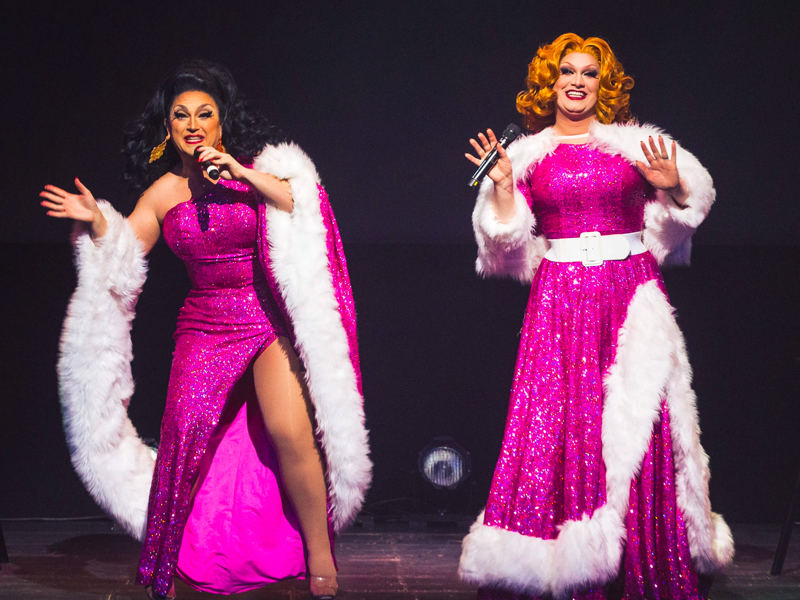 Add spice to your holiday tradition this Christmas season as the drag superstars Jinkx Monsoon and BenDeLaCreme bring another glittery and glamorous show to the heart of the Lone Star State. Join other drag fans in a night filled with feisty, fun festivities this December 13 at the Texas Trust CU Theatre. If you are a fan of the hilarious banters of the two RuPaul's Drag Race alums, then this show is definitely for you. The iconic queens have made this an annual tradition specially intended for all fans who adored the jaw-dropping lip-sync battles, the glamorous pageant, and the rib-tickling stage antics that only these iconic queens can pull off. So what are you waiting for? Book your tickets as early as today, and tag all your friends for THE ultimate drag show of the season. Hit the "Get Tickets" link to reserve yours now!
Jinkx Monsoon and BenDeLaCreme are both Drag Race royalties who are loved for their comedic wit and charisma. During their time in RuPaul's Drag Race, both showcased comedic gold. They have brought the best laughs in the competition, what more when you see them live? A top-tier comedy show will be expected from the two queens as their The Jinkx & Dela Holiday Show comes back on the road. The Christmas season will be filled with cackles and tears of joy again because the comedy they will be showcasing will be double the serving. See Jinkx and BenDelaCreme as they bring comedy realness to cities near you this Holiday!
A little look back on the queens' history, Jinkx and DeLa both became friends way before they became contestants on the popular drag show. They were both from Seattle, Washington. Performing together in similar venues, they discovered they had good chemistry and hit it off after that. The two became busy right after Jinkx joined the fifth season of RuPaul's Drag Race. When she won her season, she convinced DeLa to join the next one, and she did. Years after working separately and competing again in the competition, most especially DeLa's RPDR All-stars 3 stint (where she shockingly eliminated herself), their paths were barely crossing. This changed right after both their schedules and tours settled down.
Jinkx and DeLa then decided to make a Christmas show. Both do not have engagements during the Holiday season, which pushed them to make one. This was where they realized that they both connected with their comedy. Since then, "The Jinkx & DeLa Show" has become an annual Christmas special. This past few years, the two have captured more attention as Jinkx competed again in RPDR All-stars 7, where she won for the second time. The show was hugely successful in 2020; it was filmed and came out that same year. Currently, it can be streamed on Hulu.
'Tis the season to laugh your hearts out as Jinkx & DeLa brings the Holiday spirit with a sprinkle of fabulous drag. See them at the Texas Trust CU Theatre this coming December 13!