Texas Trust CU Theatre | Grand Prairie, Texas
For an artist to have over 17 million subscribers and 4 billion views on their YouTube channel, this is definitely one that you've got to see perform live and in the flesh, right? You better watch out coz Pentatonix is coming to town! You may be naughty or nice, but everybody is welcome to catch the Pentatonix 2019 Christmas tour. Then you'll get your Christmas present as Pentatonix are set to deliver their ultramazing loops of Christmas carol medleys and magical mashups ranging from electronic, reggae, pop, hip-hop, dubstep and even classical hits. Book your tickets and don't miss the beat as Pentatonix performs at the Verizon Theatre at Grand Prairie on Monday 23rd December 2019.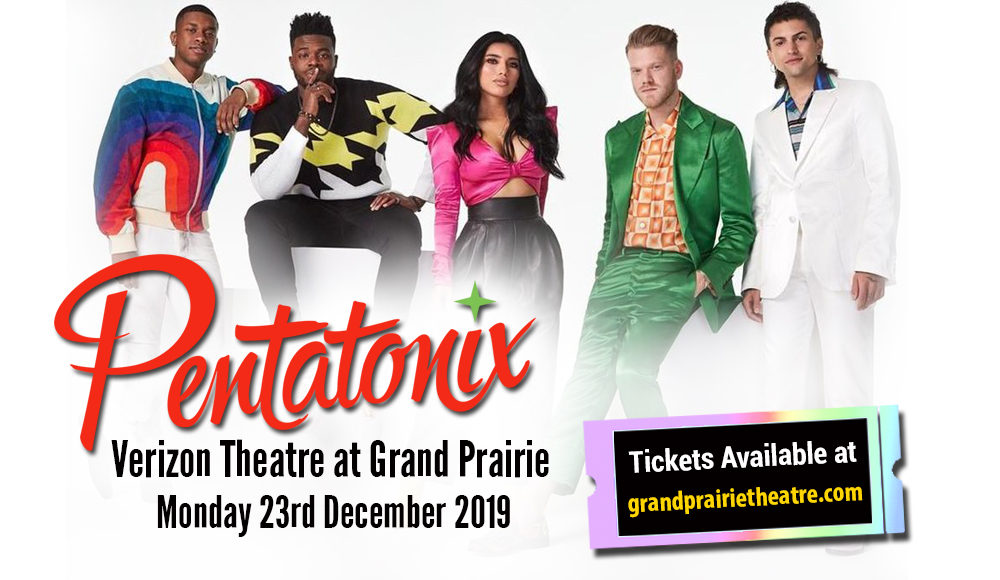 When the Pentatonix emerged as winners in the third season of NBC's "The Sing Off", TV audiences were blown away by these rising stars. In no time at all, they rose to superstar status with a gazillion of followers — that is over 17 million subscribers and 4 billion views, and counting, on their YouTube channel. They literally have sung their way to the top. With no musical instruments whatsoever, and definitely no backing tracks. Just voices. This a cappella pop/soul group can perform a wide range of musical genres ranging from electronic, reggae, pop, hip-hop, dubstep and even classical.
Pentatonix members Scott Hoying, Mitch Grassi, Kirstin Maldonado, Kevin Olusola, and Matt Sallee can pull-off ingenious vocal arrangements and harmonies, produce basslines, riffing, percussion, and beatboxing, to render spectacular versions of modern pop, rock, hip-hop down to the classics and Christmas songs, that arelooped and mashed-up into superb production numbers. On the album sales front, nine of their albums reached the top 10 on Billboard's 200 chart (two albums reaching #1) and received multiple RIAA certifications for multi-platinum, platinum and gold selling albums and singles. The Pentatonix are also three-time Grammy Award winners — the first a cappella act to win Best Arrangement, Instrumental or A Cappella, in 2015 and 2016, and Best Country Duo/Group Performance in 2017.
Impressive, huh? If you're still in awe over this news, you can still stay where you are, but get your fingers moving! All it takes are a few easy clicks starting with the 'buy tickets' button on this website. Yes, it's now or never or else they'll run out pretty fast. Book your tickets now!