Texas Trust CU Theatre | Grand Prairie, Texas
Celebrating the release of his brand new album California Son, Morrissey comes to Verizon Theatre at Grand Prairie on Wednesday 18th September 2019! The scintillating new record sees the former Smiths frontman putting his own inimitable spin on a bevvy of incredible songs from the 1960s and '70s, and will be a treat for any Morrissey fan to experience live! Plus, he'll be joined by understated alt-rockers Interpol, who have recently released a new EP themselves!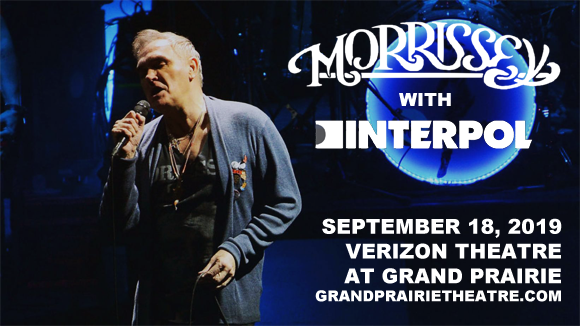 Finding fame in the 1980s as the principal lyricist and frontman of indie icons the Smiths, English singer, songwriter, and author Morrissey has since forged a successful and noteworthy solo career. Beginning his musical endeavours in the 1970s as part of punk rock band the Nosebleeds, he joined the Smiths in 1982 and also spent the early 1980s as a music journalist, as well as authoring several books on music and film. The Smiths made their debut in 1983 with an eponymous album, which was met with widespread acclaim, and followed with three more albums – Meat Is Murder (1985), The Queen Is Dead (1986), and Strangeways, Here We Come (1987) – which were similarly successful and launched a string of hit singles. After the group disbanded in 1987, Morrissey's solo career began with 1988's UK number-one album Viva Hate. To date, he has released eleven solo studio albums, with a twelfth due this year, as well as an autobiography and a novel. Both as a member of the Smiths and as a solo artist, Morrissey's musical influence and cult status are evident, and in a 2006 poll for the BBC's The Culture Show, he was voted the second-greatest living British cultural icon.