Texas Trust CU Theatre | Grand Prairie, Texas
With a successful tour trek in support of their newest album, ALWAYS ONLY JESUS, MercyMe is heading back to the road for a 16-city "Together Again Tour", stopping by Texas Trust CU Theatre on Saturday, 21st of October 2023. The tour will be joined by special guests Crowder and Andrew Ripp. As the Christian rockers continue to lead nights of praise and worship, the band is set to perform its biggest hits and new songs off of ALWAYS ONLY JESUS, all for the purpose of exalting His name up high. A MercyMe concert is definitely one that'll get you raising your hands as you lay it all down with their rockin' praise hits including "Then Christ Came", "Say I Won't", "Even If", and many more. Having been in the ministry since 1994, the band is dedicated to gathering believers back to the altar through the power of music.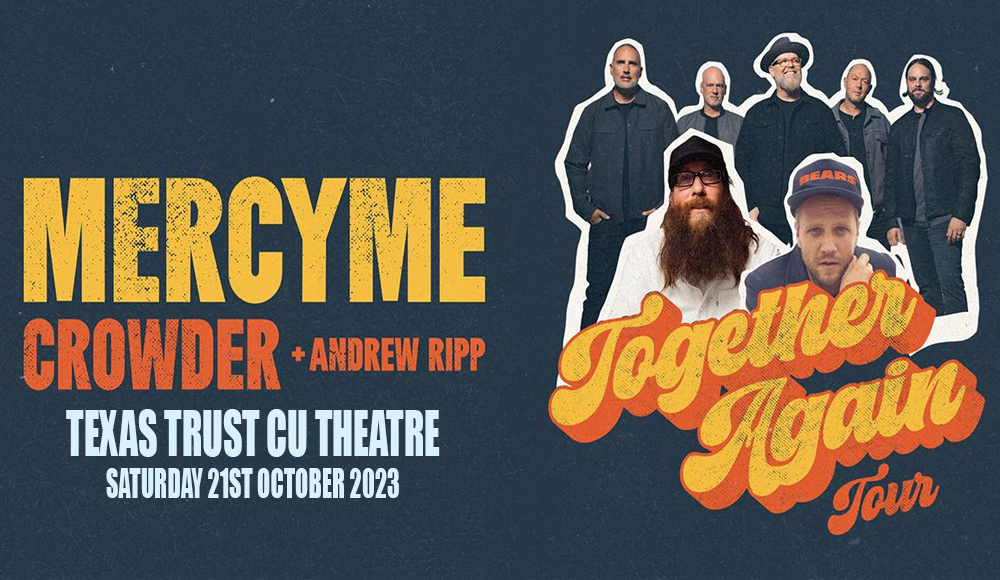 MercyMe has been touring across the U.S. this Spring in support of their newest album, ALWAYS ONLY JESUS, to the acclaim of believers for the band's unified purpose of laying it all to Jesus. As the world continues to heal and face life's surprises, MercyMe is back, coming together with Crowder and Andrew Ripp for their new "Together Again Tour". Inviting believers to come together for nights of rockin' praise and worship, MercyMe is set to serve its biggest hits, church favorites, and new music live on stage for an encore tour this October.
Following a successful tour trek in support of ALWAYS ONLY JESUS, MercyMe is more than ever dedicated to serving live worship experiences, meeting thousands of believers dedicated to focusing on Jesus with the help of their music. The band's new album features their hit praise anthem "Then Christ Came", a track that was 2 years in the making.
"We are just so excited with how it turned out," shared band vocalist Bart Millard. "The message of this song is simple in that it's about who I was before, and then Jesus showed up, and now everything has changed.
Everything changed in 1994 when MercyMe was formed, and since then, they've been changing lives dedicated to Jesus through the power of praise and Christian rock. Another most recent release is the band's single "To Not Worship You". The track reminds believers that despite struggles, doubts, and unanswered questions, one just needs to be reminded of who Jesus is in their lives.
"I think with this song, I better realize what being still and knowing that He is God means," Millard shared, explaining how people tend to not take a pause when facing doubt or questioning life. "When you take the time to remember who God is, then it's easy to ask, 'who are we to not worship him?"
Praise God! Indeed, who are we to not worship him amidst anything that life throws at us? Whatever struggles may arise, MercyMe's music is a great reminder that God is above everything. "We may not agree on anything else, but we all agree that it's 'Always Only Jesus'," shared Mike Scheauchzer. "That's why the album feels like anthem after anthem after anthem because they are all definitive statements about Jesus."
MercyMe's notable tracks, church favorites, and rockin' hits include "Word of God Speak", "Greater", "Shake", "Grace Got You" featuring John Reuben, "Flawless", "The Hurt & The Healer", and "Even If".
Being able to serve non-stop live tours after the pandemic tested believers' faith and trust amidst uncertainty, MercyMe recalls how blessed they are to have believers gathered in one venue, surrendering everything back to Jesus. "It makes us step back for a second and have these moments of gratefulness and we just think it's amazing that we're still doing this," Nathan Cochran shared, cited from Shreveport Times.
As the band calls believers to come together at the Together Again Tour, lay it all down at the altar at Texas Trust CU Theatre led by MercyMe. Book your tickets now!
"For where two or three are gathered together in my name, there am I in the midst of them." Matthew 18:20