Texas Trust CU Theatre | Grand Prairie, Texas
Get the vibe on as R&B legends Kem and Kenny "Babyface" Edmonds are set to hit the stage together on "The Full Circle Tour", stopping by at the Verizon Theatre at Grand Prairie on Sunday, 17th of April 2022. The three-time Grammy-nominated R&B star just dropped his fifth studio record "Love Always Wins" last 2020, and is set to release his forthcoming EP "Full Circle". He'll be touring together with the legendary 12-time Grammy Award-winning R&B singer, songwriter, and producer, Kenny "Babyface" Edmonds. Babyface's timeless hits include "When Can I See You", "Someone to Love", "Every Time I Close My Eyes" and many more. He's also written and produced hit songs and albums for big names including Madonna, Michael Jackson, Ariana Grande, Boyz II Men, and much more. It's gonna be a legendary show with two of the most iconic R&B artists sharing the same stage, so book your tickets now!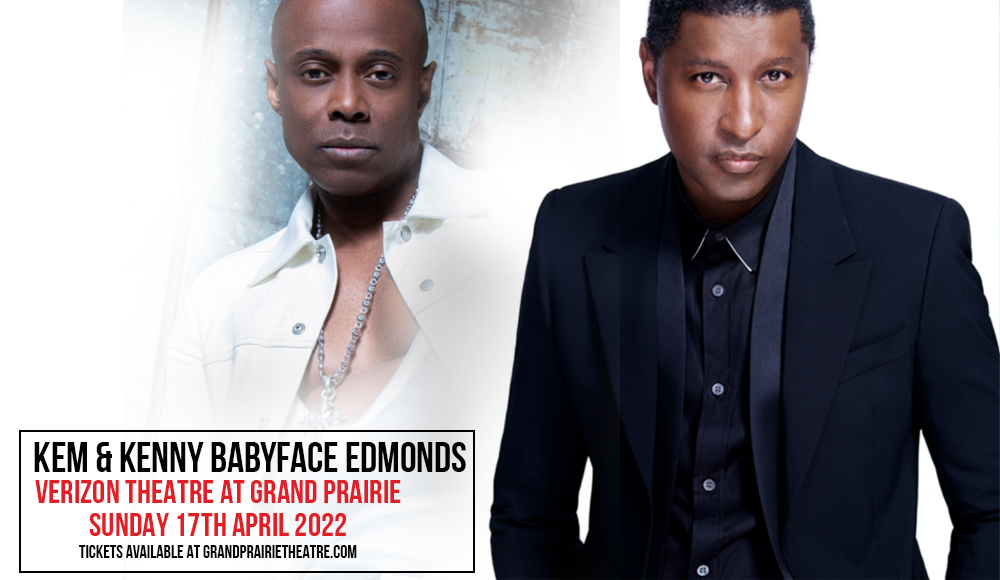 Kem has his roots in Nashville, and at an early age, began to sit down and play his grandfather's piano. With some struggles during his youth, he found peace through music. Juggling work and passion, he managed to self-finance his self-released debut record "Kemistry". Catching the attention of a record label, he signed with Motown in 2001. His debut album was re-released by 2003, selling over 500,000 copies, certified gold by the RIAA.
Kem's notable work that made waves in the R&B scene include "I Can't Stop Loving You" and "Find Your Way (Back in My Life) from his certified-platinum record "Album II". Other hits and fan-favorite singles include "Why Would You Stay", "My Favorite Thing", "It's You", and his latest 2020 release "Live Out Your Love".
Kenny "Babyface" Edmonds, born in Indiana, faced a shy youth and expressed his emotions through songs. Het met Boosty Collins, a funk artist, who penned him the name "Babyface" because of Edmonds' youthful appearance. He kicked off his music career by playing for a few bands, then propelling himself to success as a songwriter, producer, and further releasing solo projects.
Babyface's discography is surely one for the books, amassing hits after hit covering collaborations, produced records, and solo releases. Talk about unforgettable hits like "Every Time I Close My Eyes", "This Is for the Lover in You", "How Come, How Long", "When Can I See You", and many more up to his latest 2020 single "He Don't Know Nothin' 'Bout It" with Jam & Lewis.
The official tour host, Sherri Shepherd through an IG story gave fans a teaser, talking over the phone saying "Oh, we gon' make it a night. It's gonna be ladies night, girls night, and find-a-man night," as the first few notes to "Lie To Me" by the one and only Kem played.
One-of-a-kind night is surely what it's going to be, with two iconic R&B stars who made marks in the R&B scene rise once again and share the stage to perform timeless and crowd-favorite hits live at the Verizon Theatre at Grand Prairie on Sunday 17th of April 2022. So, book your tickets now!