Texas Trust CU Theatre | Grand Prairie, Texas
How can a quiet storm make you sweat? No one quite like him can pull it off — only Keith Sweat can! R&B singer, songwriter and new jack swing pioneer Keith Sweat will set the cool wind blowing in this side of town. He is set to hit center stage on Saturday 12th October 2019 at the Verizon Theatre at Grand Prairie. Keith Sweat is a showman in every sense of the word. No wonder, fans of all ages just continue to pour in, filling up venues everywhere. You've got to move now if you want to get tickets. But you won't have to break a sweat in getting tickets. With a few easy clicks on the 'buy tickets; button, you'll be well on your way riding on the storms of smooth and passionate classic R&B music ala Keith Sweat!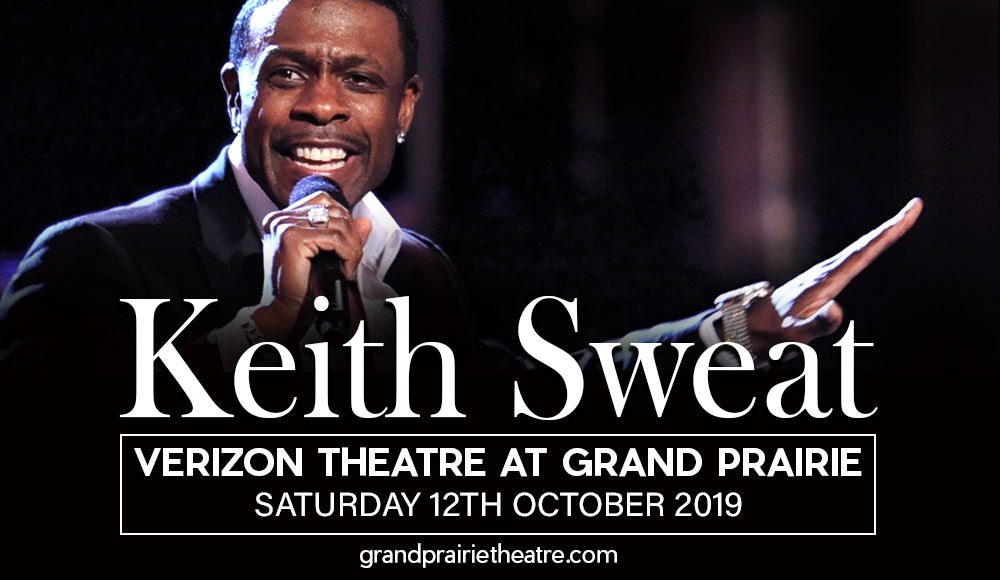 With a 9 to 5 corporate job by day and at singing at clubs by night, Keith Sweat scored a breakthrough with the release of his début solo album in November 1987 entitled "Make It Last Forever". The album spawned the single "I Want Her" that garnered him a nomination in the 1989 Soul Train Song Of The Year Awards, hitting #1 in the R&B charts, and consequently selling four million copies. From there it was crystal clear that Keith Sweat is the rightful ruler of new jack swing music. And rule the charts, he did. Keith Sweat cranked up his hit-making machine that churned out biggies such as "I Want Her" "I'll Give All My Love to You," "Twisted," "Nobody," "Keep It Comin'," "Come and Get With Me," "I'll Trade (A Million Bucks)," and "Love You Better."
Don't sweat the small stuff and settle for less. Go for the legit R&B superstar who could summon a storm! Get your tickets now!