Texas Trust CU Theatre | Grand Prairie, Texas
O come, all ye faithful, and join the K-Love Christmas Tour! Christian radio station K-Love has amplified the Christmas carol tradition into a full-blown Christmas concert. This year's K-Love Christmas Tour features some of the most inspiring and uplifting praise and worship songs from a stellar line-up of artists –Casting Crowns, Mac Powell, CAIN, Dante Bowe & Jordan St. Cyr Catch the K-Love Christmas Tour at the Verizon Theatre at Grand Prairie on Friday 17th December 2021. Get together for the reason of the season. Come together with family, friends, and loved ones and sing songs of love, glorious exultation, and joyful holiday hymns. Tickets are now available. Book your tickets by clicking on that 'Get Tickets' link now!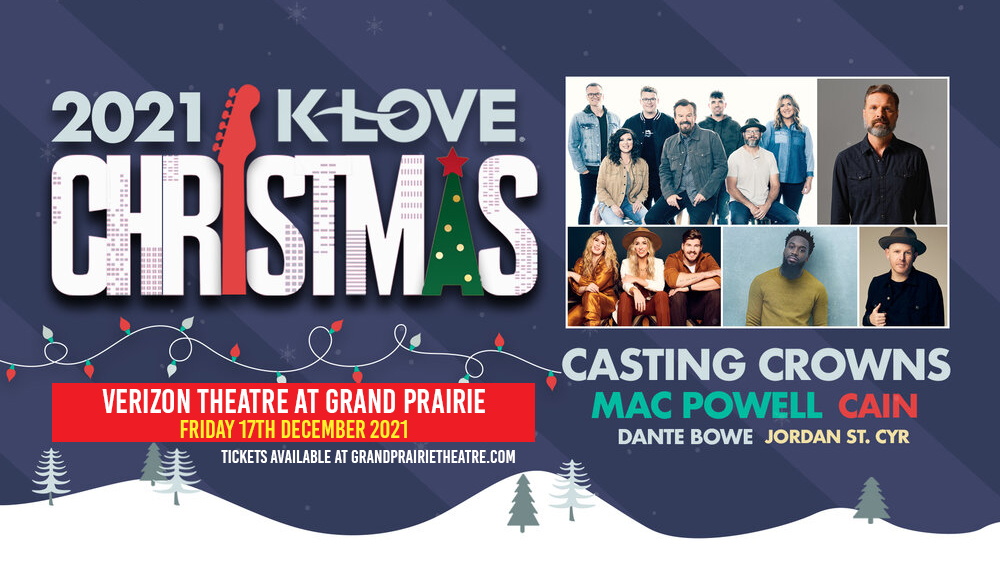 The K-Love Christmas Tour is one of the most awaited holiday events of the Christmas season. This annual event is part of K-Love's expanded programming where the Christian artists you hear all year long playing on the radio, gather in one stage venue to sing songs of praise and adoration, live. The K-Love Christmas Tour this year has rounded up a celebrated lineup of Christian music artists, as follows:
Casting Crowns is a Christian rock band started in 1999 by youth pastor Mark Hall. Casting Crowns has had their share of hits, most notably in 2009 when their fourth major studio album, "Until the Whole World Hears" set a new record for the highest Christian album debut in history as it debuted at No. 4 on the Billboard 200 and hit 167,000 copies sold in its first week alone. They are recipients of Grammy and a Dove Awards and were recognized as the most played artist on Christian Radio in 2007, according to Radio & Records Weekly charts.
Dante Bowe: He is both a member of the Bethel Music collective and the Maverick City Music collective. This singer, songwriter, and worship pastor from Addereth Church in Columbus, Georgia, has debuted as a solo artist, spawning the hit single "Joyful" from the album "Circles" which debuted at No. 7 on Billboard's Top Gospel Albums chart in the United States.
CAIN: Growing up and singing together as preacher kids, the siblings have naturally developed their warm and lush three-part harmony. Siblings Taylor, Madison, and Logan Cain cite The Eagles and Bob Seger as one of their influences and have ventured into more 'pop-rock' music endeavors that got them touring all across the US, UK, and Canada, performing at notable festivals like C2C in London and Cavendish Beach Music Fest. In hindsight, they saw the hand of God prepping them up for something bigger… Madison said, "Everything in our career to this point has been a matter of 'making it.' Every song, show, or video had the undertone of 'I hope this will be our big break.' It really took letting it all go and saying 'God, what do you want us to say?' Now, making music brings us pure joy, and I hope the audience can feel it in the songs."
With Mac Powell and Jordan St. Cyr completing the K-Love Christmas Tour pack, this concert is the epitome of giving the gift of love in the most wonderful time of the year! Book your tickets now!