Texas Trust CU Theatre | Grand Prairie, Texas
Your throwback posts on your social media timeline need not be always a blast from the past. Throwback jams are definitely more exciting if they're bound to happen here and now! That's right 100.3 Jack-fm is proud to present their 2nd Annual Fall concert experience dubbed as Jack FM's RETROPLEX 2019 on Saturday, November 9th at The Theatre at Grand Prairie. This year's lineup features SURVIVOR, STARSHIP w/Mickey Thomas, ROMANTICS, SCANDAL w/ PATTY SMYTH, and MODERN ENGLISH. Grab those flex-worthy tickets now before it's too late!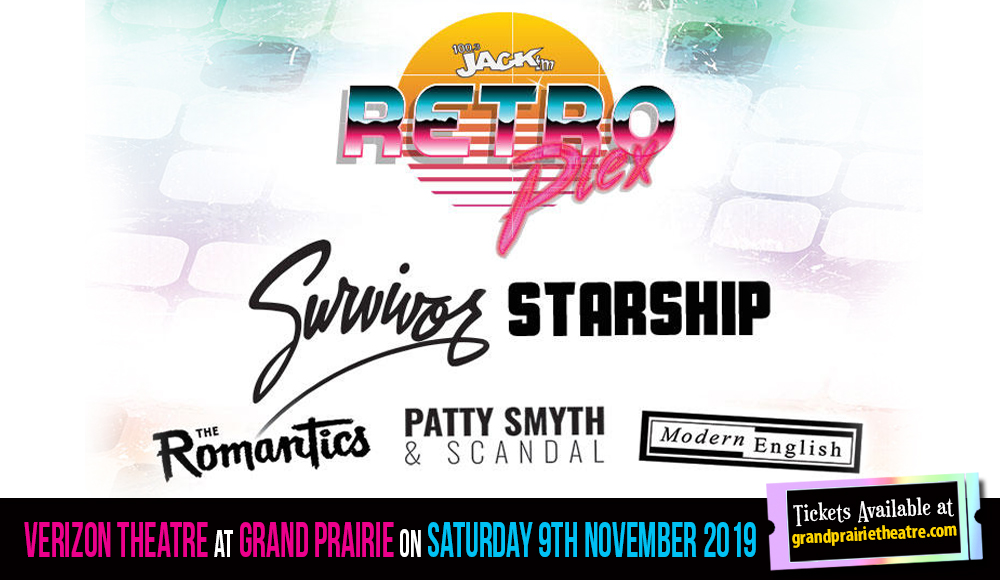 100.3 Jack-fm RETROPLEX 2019 line-up is made up of artists that could truly dish out an endless parade of hits. We challenge you — as you read the artists' names and titles of some of their monster hits, you really could not help but hum or sing-along with the melody. It'll just keep buzzing in your head. Now try this for size!
SURVIVOR
The band is best known for its double platinum-certified 1982 hit "Eye of the Tiger", the theme song for the motion picture Rocky III (US number 1 for 6 weeks) and singles like "Burning Heart" (US number 2), "The Search Is Over" (US number 4), "High on You" (US number 8), "Is This Love" (US number 9) and "I Can't Hold Back" (US number 13) continued to chart in the mid-1980s.
STARSHIP w/Mickey Thomas
They truly built a city of massive hits which include "We Built This City", "Nothing's Gonna Stop Us Now", "Sara", "Find Your Way Back", "Jane", and many more!
ROMANTICS
Under the banner of power pop and new wave, The Romantics took us on a wild ride with a pair of their biggies –"What I Like About You", which peaked at #49 in the US and #2 in Australia, and "Talking in Your Sleep", which peaked at #3 in the US, #1 in Canada, and #14 in Australia. The ditties have since become mainstays on '80s, classic rock, AOR, and active rock radio stations.
SCANDAL w/ PATTY SMYTH
The fierce femme fetale Patty Smyth at the helm of her band Scandal scored a hit in the United States with the song "The Warrior", which peaked at No. 7 in 1984. Other hits were "Goodbye to You" (1982 – No. 65 US), "Love's Got a Line on You" (1983 – No. 59 US), "Hands Tied" (1984 – No. 41 US), and "Beat of a Heart" (1985 – No. 41 US).
MODERN ENGLISH
This new wave/post-punk band from Colchester, Essex, England formed in 1979 taught us that an 80s party would not be complete without their timeless hits — "I Melt with You", "Hands Across the Sea", and "Ink and Paper".
This is that dance-'til-you-drop party experience, for real! Don't miss it for the world!