Texas Trust CU Theatre | Grand Prairie, Texas
"Why don't we do it on the road?" Perhaps was the question and the melody buzzing in their heads when the unlikely pairs of Micky Dolenz, Christopher Cross, and Todd Rundgren conceptualized this roadshow dubbed as "It Was 50 Years Ago Today" tour. Indeed, it was fifty years ago –but factually and more precise to say fifty-one years ago, since the one and only Fab Four released one of their highly venerated albums — the self-titled "The Beatles" or universally known as "The White" album. Now, this is the concert where the above-mentioned superstars are literally taking songs from the famous album onto the live concert stage. And not only that, but these artists would also entwine their very own hit songs as part of the setlist. "It Was Fifty Years Ago Today – A Tribute To The Beatles White Album" is a grand celebration of phenomenal music happening at the Verizon Theatre at Grand Prairie on Wednesday 4th December 2019. If these music icons have come out to play, then it's your turn –book your tickets to come out and have this one-of-a-kind concert experience.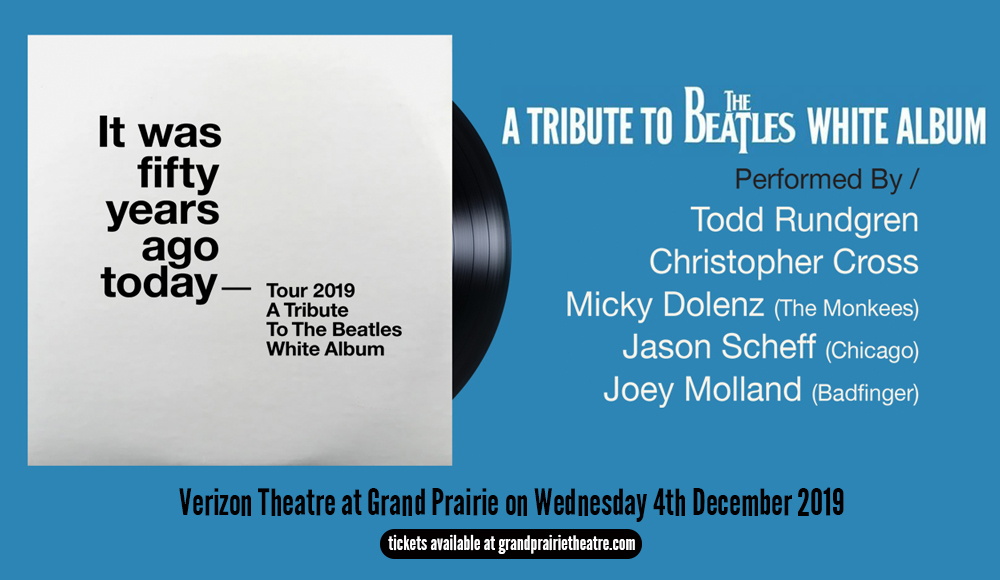 The tour poster of this event contains the disclaimer: It Was Fifty Years Ago Today – A Tribute To The Beatles White Album is "not affiliated or endorsed by the Beatles individually or collectively". Yet there is no stopping folks, fans, and even music artists from coming together and celebrating The Beatles' phenomenal discography.
One such album that has hit its golden age is the self-titled 'The Beatles', or popularly known as 'The White Album". Recognized as 'legends', Christopher Cross, Todd Rundgren, Micky Dolenz (The Monkees), Jason Scheff (Chicago), Joey Molland (Badfinger), and musical director Joey Curatolo teamed up especially for this endeavor getting the songs from this phenomenal album to the road and on to the live concert stage.
These artists may have detached themselves from any affiliation, but it is a fact that once upon a time in their careers, they have had their own share of Beatle-encounters or Beatle-connections, so to speak. Todd Rundgren shared production duties with George Harrison in the production of the Badfinger album for Apple Records in 1971. More recently, Rundgren appeared as part of the Ringo's All Starr Band. Then Molland as part of Badfinger, was the first band the Beatles signed to their label Apple in 1968, and played sessions in both John Lennon and George Harrison's albums. These so-called 'connections' are all trumped by how these artists were highly influenced by both A-side and B-side tracks from the White Album, considered as timeless classics to this day. "Back in the U.S.S.R." , "Dear Prudence", "Birthday", "I Will", "Blackbird", "I'm So Tired" and more! Not only are these songs chart-topping hits; they've become soundtrack of one's life, the soundtrack of a generation. Songs that are certified classics–timeless…ageless…boundless…Now cheers to fifty more years and beyond!