Texas Trust CU Theatre | Grand Prairie, Texas
Do you mom so hard? The saving grace of mothers everywhere, the YouTube viral comedy sensation IMomSoHard, created by comedians Kristin Hensley and Jen Smedley, lays bare all of the trials and tribulations of being a momma with a healthy dose of TMI and some 100% relateable content. Celebrating the joys of wine and comfortable underwear whilst trying to keep their sanity and be the best parents they can be, the New York Times bestselling authors and stand-up comics headed to Verizon Theatre at Grand Prairie on Thursday 20th February 2020 for Mom's Night Out: Round 2!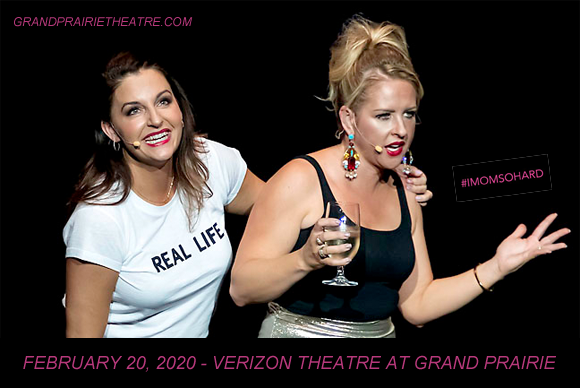 Imomsohard is the comedy brainchild of Kristin Hensley and Jen Smedley – two Los Angeles-based comedians who are both originally from Nebraska. In 2016, after meeting each other at an underground comedy club, the friends and mothers started a YouTube channel of the same name together. Their videos, which contain frank and hilarious takes on the joys and difficulties of motherhood, have since racked up over 10 million views and their channel currently has over 91,000 subscribers. Drawing from stand-up and improv skills, the pair have resonated with moms across the world and, since their internet debut three years ago, have written a New York Times bestseller, created a stand-up special with Amazon Prime and embarked on two comedy tours.