Texas Trust CU Theatre | Grand Prairie, Texas
Take a break from your adulting chores and go for a throwback weekend where you groove to cool R&B jams. American R&B boy band Immature (also known as IMx) are on the road #TBTour. This tour will dock on these shores and spread a soulful vibe at the Verizon Theatre at Grand Prairie on Saturday 14th December 2019, to be joined by fellow R&B crooners Ray J, Day 26, B5 and J. Holiday. What a better way to recharge and revitalize a burned-up adult soul by spending a Saturday night chilling to throwback jams. This. Is. What. You. Need. #BookYourTicketsNow!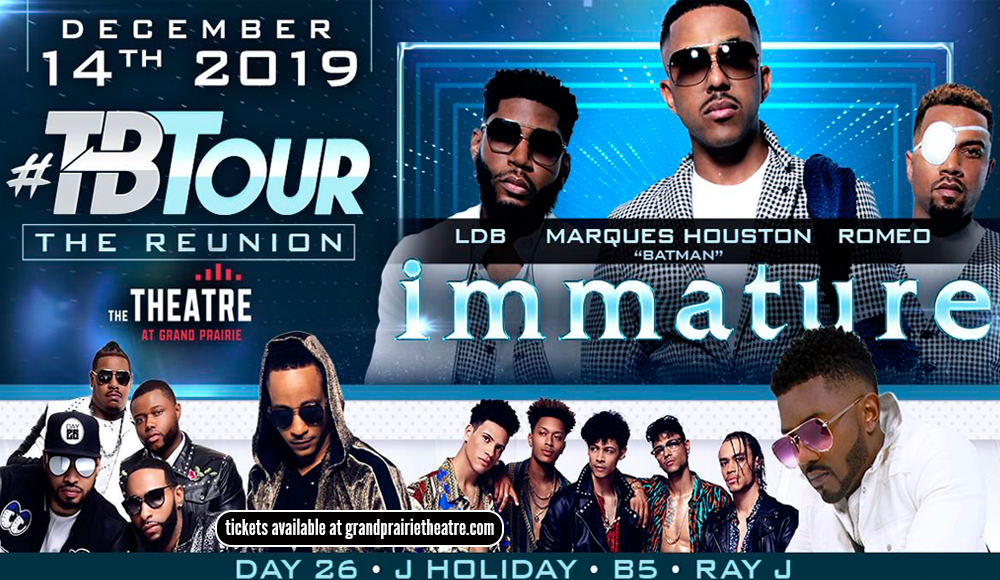 "On Our Worst Behavior" released in 1992 was the album that kickstarted the career of American R&B boyband Immature. The band members include Marques "Batman" Houston, Jerome "Romeo" Jones, and Kelton "LDB" Kessee, all natives of Los Angeles, California. Under the name "Immature", the band released four albums — "Playtyme Is Over" in 1994, "We Got It" in 1995 and finally in 1997, "The Journey".
The group embarked on a new chapter in their career as they changed their name to IMx in 1999. To mark their tenth year, IMx released two studio albums Introducing IMx and IMx, and then released a Greatest Hits album in 2001. IMx ventured into movies and TV shows, until they disbanded in 2002. Fans who have clamoured all these years for a reunion is finally coming to pass. #TBTour with special guests Ray J, B5 and J. Holiday is happening for real. No turning back now…it's just to hard to pass up on something like this, right? That's your cue — book your tickets right here, right now!