Texas Trust CU Theatre | Grand Prairie, Texas
If you're hearing the sound of big motorbikes revving up, then it's time to gear up. Get ready to hop on as Black Label Society comes trekking down to this neck of the woods. This hard-hitting heavy, groove, southern, biker metal band will soon mount the Verizon Theatre at Grand Prairie on Saturday 20th November 2021. As Black Label Society years of touring in support of "Grimmest Hits" was cut short due to the pandemic, BLS is back on the road to unleash live ammunition of their monster hits — "Stillborn," "Suicide Messiah," "Fire It Up," "In This River," "Concrete Jungle," "The First Noel", "Ain't No Sunshine," and many more. Get your fists up as high as you can, but first, get tickets! Black Label Society tickets are now available, just click on that 'Get Tickets' link. Book your tickets now!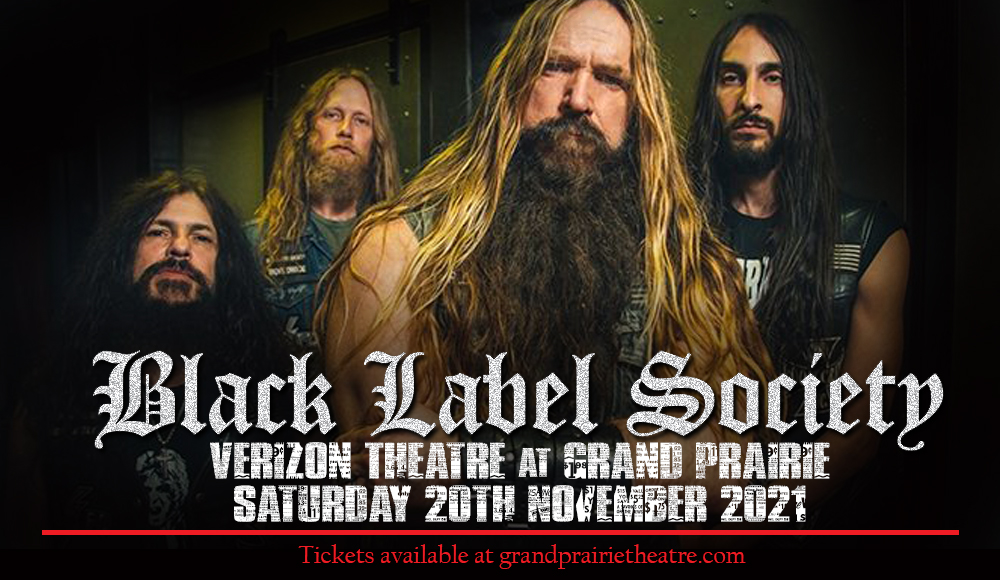 The name Zakk Wylde is sacred, one of the most revered names in heavy metal-dom. This guitar god is hailed as one of the best guitar players in the world — being Ozzy Osbourne's right hand man, in his longtime tenure as lead guitarist for Black Sabbath. He then decided to form his own band. In 1998, as Wylde was recording "Sonic Brew", which originally was a solo project, he and drummer Phil Ondich recruited guitarist Nick Catanese and bassist John DeServio to form a long-term band and christened it Black Label Society.
In a span of twenty years, Black Label Society has released ten studio albums, two live albums, two compilation albums, one EP, and three video albums. Some of their most gripping and monstrous singles include "Stillborn," "Suicide Messiah," "Fire It Up," "In This River," "Concrete Jungle," "The First Noel", "Ain't No Sunshine," to name a few.
Recently hard-core fans euphoric over Black Label Society's release of a treasure trove of rarities in a sleek collection called "None More Black" box set, containing remastered versions of all 12 of the band's original studio recordings on gorgeous color vinyl. The box set comes with a hardcover 32-page photo book, chronicling BLACK LABEL SOCIETY's legendary career. It arrives in an indestructible black-on-black embossed collection box. It includes "The Song Remains Not The Same II", featuring reworked versions of the original songs.
Now dress in black leather and raise your fists as high as you can coz this show is definitely a killer! Book your tickets now!