Texas Trust CU Theatre | Grand Prairie, Texas
From singing in the shower, she's now gearing up for her first-ever headlining tour in the U.S.! Though she dominated the scene in 2014 with her hit single "Shower", along with several co-headlining tours and performances, you wouldn't believe that this year's trek is actually her first headlining stint. From mainstream pop to becoming a world-renowned Latin music superstar, Becky G's music remains the same at its core – edgy and powerful pop-rap, hip-hop, and R&B bangers. Following a show-stopping performance at Coachella, she's definitely ready to give her music the live justice it deserves – at the 'Mi Casa, Tu Casa' tour. With word of a new album out and about as she released a new song "Chanel" with Peso Pluma, Becky G's surely set to impress with her biggest hits, fan favorites, Esquemas bangers, and perhaps some new music at her headlining tour debut. Catch her live on stage at Texas Trust CU Theatre on Thursday, 28th of September 2023. Book your tickets now!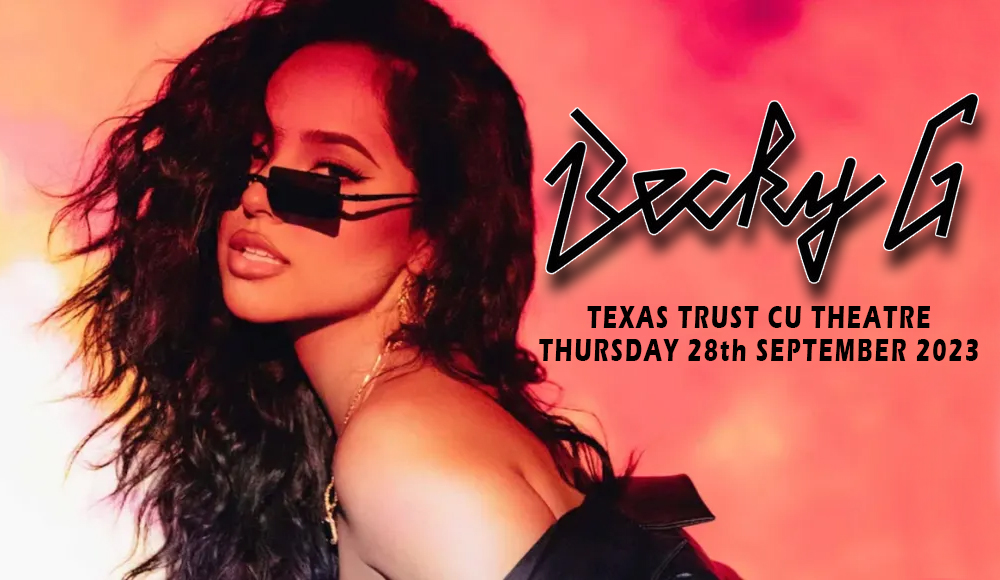 She's definitely lit the whole world up like it's the fourth of July as she served her smash hit "Shower" in 2014. Serving a slew of bangers and a shift to Latin music, the queen is finally ready to launch her first-ever headlining tour trek this year. The 'Mi Casa, Tu Casa' tour is slated to launch this fall, hopping over to major cities across the U.S. As she pays homage to her Mexican roots, Becky G became renowned for her crossover to Latin music, dropping several hit after hit such as "Díganle" with Leslie Grace, "Sin Pijama" with Natti Natasha, "Booty" with C. Tangana, and "Mayores" with Bad Bunny.
Following an astounding Coachella performance, the singer is stoked to serve her biggest hits and pay homage to her roots live on stage at 'Mi Casa, Tu Casa'. "I'm so excited to go out on the road for my first ever headlining tour and to see all my beautiful fans and supporters across the country in these intimate settings," the singer shared as she announced the 16-date trek.
Changing one's musical direction after lighting up the scene takes great power and bravery. Becky G definitely slayed! After a successful run with her mainstream pop hits "Shower", "Can't Stop Dancin'", and several featured appearances in other stars' music, Becky G turned the scene up by crossing over to the music of her roots. Boy, was it a success!
Marking a new era with "Mayores" in 2017, the singer's single with Bad Bunny topped the charts in Mexico, Spain, Romania, and nine more Latin American countries. The single bagged a 46x Platinum certification from the RIAA (Latin). Singing "Mayores", she definitely let the world know that Becky G's in charge.
With two studio albums and over 70 singles on her list, Becky G is stoked to share her beautiful musical journey live on stage at her very first headlining tour trek. "My hope is to have a very versatile set list, that takes my fans through the journey of self-discovery that I've gone through in the past few years," she told Variety. "Fans can expect to hear fan favorites — which I'm forever thankful for as they've all changed my life and allowed me to continue doing what I love, along with the songs that mean the most to me,"
The singer also shared that fans can expect to hear some of her most recent releases as well, along with big surprises, teasing new music in the works. As "Chanel" with Peso Pluma conquers Latin music airwaves, fans are in for a wild ride as Becky G hints at new music. Performing the track at the 2023 Latin American Music Awards, she's definitely a wild dream in our books!
At the awards show, the singer won Song of the Year for "MAMIII" with Karol G, and Best Collaboration for the regional Mexican category. "My Mexican blood is everything to me, it is the blood that runs through my veins," she exclaimed as she received the award.
Geared up for one of her career's biggest milestones, make sure to save your spots at her 'Mi Casa, Tu Casa' tour by booking your tickets now!