Texas Trust CU Theatre | Grand Prairie, Texas
Remember the time when girls just wanna have fun, and boys do fall in love? While this was happening, a new wave of British invasion conquered the airwaves. Now re-live that eclectic and colorful era. Hop on to the time machine that would take you "Back To The 80s"! Bask in the carefree and nostalgic soundscapes of synthesizers and drum machines with these iconic names — A Flock of Seagulls, Men Without Hats, Missing Persons, Dramarama, Stacey Q, Animotion, The Flirts, Tommy Tutone, Anything Box, and with the special participation of Christopher Anton (formerly of Information Society). Back To The 80s at Verizon Theatre at Grand Prairie on Friday 19th November 2021 — book your tickets now!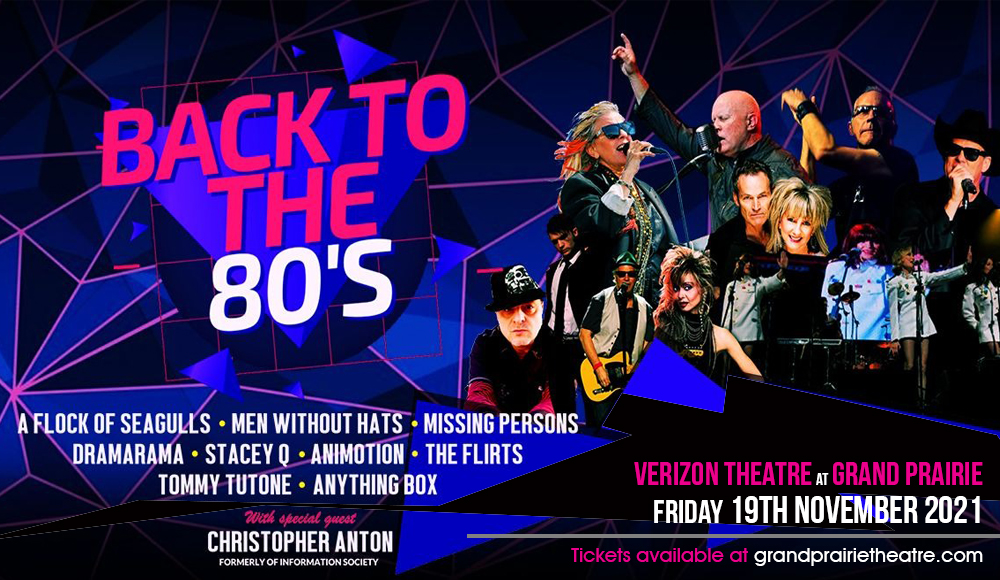 If you grew up in the 80s or perhaps grew up listening to your parents' (or for some, grandparents') music, just by merely reading the names of the artists highlighted in the Back To The 80s show, you would instantly hear their hit song buzzing in your head.
A FLOCK OF SEAGULLS: 'You never give your heart to a stranger..' as they say in the lyrics of one of their smash hits. But we definitely surrendered to the music of this band from Liverpool, England. founded by hairdressers Mike Score and Frank Maudsley, Score's brother Ali, and Paul Reynolds, A Flock of Seagulls scored high up the charts with their top 40 hits "I Ran (So Far Away)" (1982), "Space Age Love Song" (1982), "Wishing (If I Had a Photograph of You)" (1982), and "The More You Live, the More You Love" (1984), and the Grammy Award-winning instrumental music "D.N.A" (1982).
MEN WITHOUT HATS: They told us – 'you can dance if you want to', and with that 'pop goes the world'! The music of Men Without Hats is bubbly infectious. It's either you get an earworm or can't stop bobbing your head with its effervescent rhythm. "Sure lots has changed in music over the last few decades, " says frontman and lead singer Ivan Doroschuk, " but the world still loves a hooky song with a bit of edge that can get you thinking." "Safety Dance" and "Pop Goes The World" are just some of their biggest global hits.
These bands are more than enough to fill the concert hall with nostalgia but then you still got Stacey Q's "Two Hearts"; The Flirts with their multi-smash hits "Jukebox (Don't Put Another Dime In)," "Danger," "Passion," "Helpless," "You and Me," "Love Reaction," "Temptation," "We Just Want To Dance," and many others; Animotion's monster hit, "Obsession"; Dramarama's "Anything, Anything (I'll Give You)", and a whole lot more!
Find your way back to the dazzling daze of the 80s. Save the date and book your tickets now!