Texas Trust CU Theatre | Grand Prairie, Texas
One of the kings of Christian hip-hop is adding another night to his acclaimed Hits Deep Tour 2023 at Texas Trust CU Theatre on Saturday, 11th of February 2023. The multi-platinum artist has brought sonic waves of hip-hop and rock to the contemporary Christian music scene. This year's Hits Deep Tour will feature a star-studded lineup of performances including sets from DiverseCity band with supporting acts CROWDER, Cochren & Co, Tasha Layton, Jon Reddick, and Terrian. The extensive arena tour is an annual tradition by TobyMac as he sets nights of hard-hitting praise and worship as thousands of believers gather under one roof. Don't miss out on TobyMac's greatest hits and live renditions of his new material from "Life After Death", joined by special performances with his supporting acts. Book your tickets now!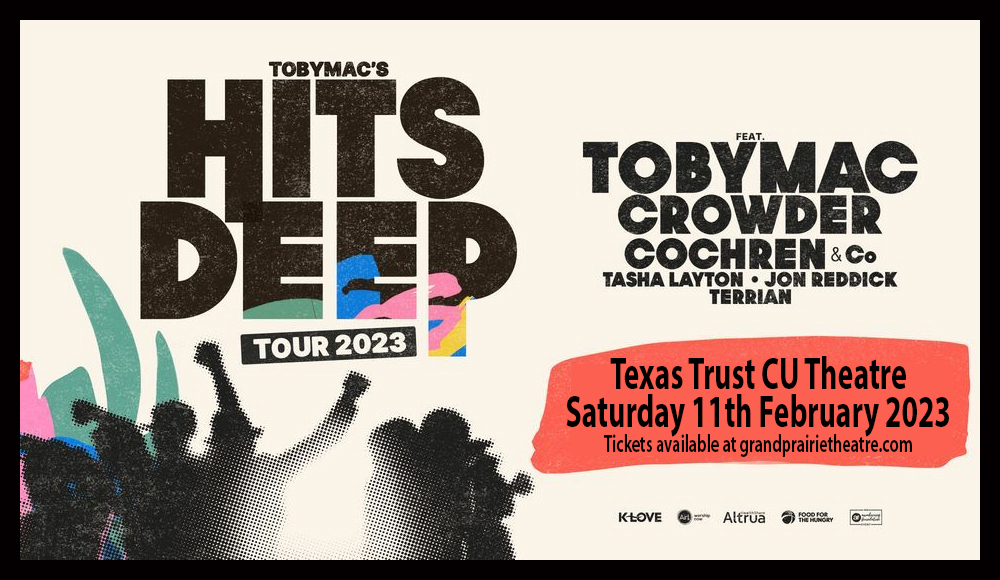 Over twenty years in the scene, TobyMac played a great role in the contemporary Christian music scene. Taking Christian hip-hop to mainstream attention, the artist spawned a slew of hit singles including "Get Back Up", "Me Without You", "Love Broke Thru", "I Just Need U.", "Help Is on the Way (Maybe Midnight)", and many more. Incorporating contemporary styles into Christian music, TobyMac paved an avenue for believers to express their faith in a genre unexpected to be appropriate as an expression of faith. With twenty years of making hip-hop full of faith, hope, and love, TobyMac released his eighth studio record, Life After Death, last August of 2022. The deeply-personal album marks his sixth consecutive #1 album on the Top Christian Albums chart.
"The Hits Deep Tour announcement is one of my favorite times of each year," shares Curtis Pinkerton of Awakening Events. "This tour has become an annual tradition for us at Awakening Events and for thousands of families across the US. We're honored to once again partner on a national level with our great friends at K-LOVE Radio, Air1 Radio, Food for the Hungry, and Altrua HealthShare, to present TobyMac's Hits Deep Tour 2023."
With music that definitely hits deep as an active expression of faith, TobyMac has sold over ten-million records and won seven Grammy Awards for his unique and personal material. He is one of the artists with the most #1 hits on the Billboard Christian songs chart, being the third Christian artist to hit #1 in the Billboard 200 chart with "Eye on It".
At 58, TobyMac's passion for music as an expression of faith continues to live on. Despite facing tough challenges over the past year, the man took his heavy journey to make music his outlet for expressing great faith despite trials and grief. "Life After Death" explores themes of sadness and grief as he reflects on the journey of losing his eldest son.
"God has been kind enough to show me that there is life after death," he shared before the album's release. "It's hard to even say because I almost at times don't want life. I think I'm cheating somehow on my son. But somehow or another I've learned that God is good."
"Life After Death" features his new singles "21 Years", "I'm Sorry (A Lament)", "Help Is on the Way (Maybe Midnight)", "Promised Land", and "The Goodness".
"After what I've experienced and losing my firstborn, I just think people came alongside me and helped me – helped me maybe sing some of the things that were hard for me to sing, and maybe made me a little stronger. So I'm grateful." TobyMac shared.
As he gears up to get right back on stage, TobyMac is stronger than ever, with a plethora of songs that hit deep into believers' hearts. With a mission to exalt His name, don't miss out on TobyMac joining the stage with a star-studded lineup of supporting acts at the Hits Deep Tour 2023. Book your tickets now!