Texas Trust CU Theatre | Grand Prairie, Texas
The multi-platinum contemporary Christian artist who brings hip hop to the Christian airwaves, TobyMac, just announced his 2023 TobyMac Hits Deep Tour, featuring an artist lineup including DiverseCity band with supporting acts CROWDER, Cochren & Co, Tasha Layton, Jon Reddick, and Terrian. The annual tradition sets foot on a 30-date arena show trek this year. Hits Deep is hitting the stage at Texas Trust CU Theatre on Friday, 10th of February 2023 for a special night of praise and worship that definitely hits deep into believers' hearts. Get ready to hear TobyMac's biggest hits and new tracks off of his newest #1 record "Life After Death", along with special performances from the supporting acts. Book your tickets now!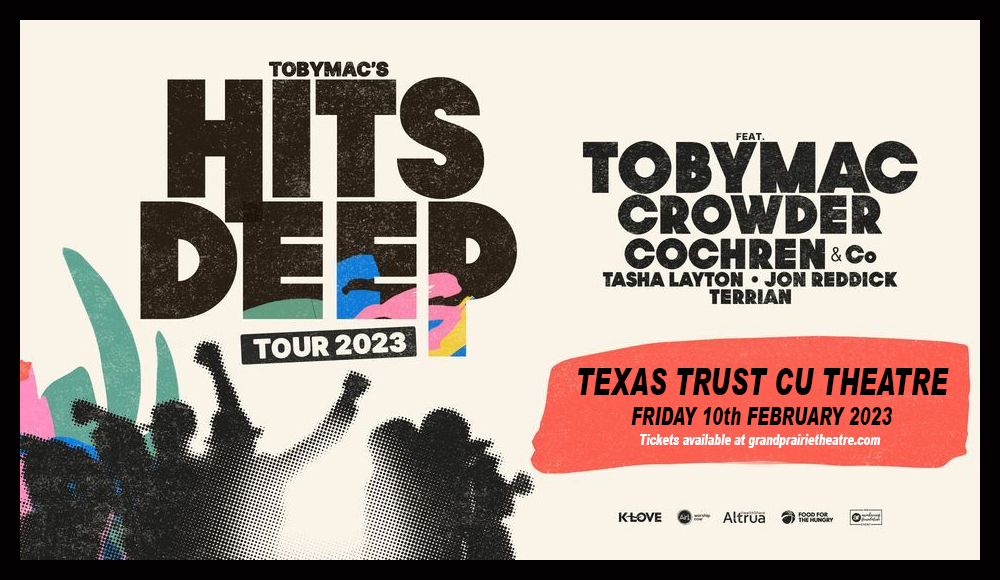 For over twenty years, TobyMac has played a role in defining the Christian hip-hop and rock scene. Introducing a unique praise and worship experience, TobyMac's influence has spread across the world, introducing a new flavor of music that hits deep for believers to express their faith. Last August 2022, the man released his eighth studio album, Life After Death, marking his sixth consecutive #1 on the Top Christian Albums chart.
"The Hits Deep Tour announcement is one of my favorite times of each year," shares Curtis Pinkerton of Awakening Events. "This tour has become an annual tradition for us at Awakening Events and for thousands of families across the US. We're honored to once again partner on a national level with our great friends at K-LOVE Radio, Air1 Radio, Food for the Hungry, and Altrua HealthShare, to present TobyMac's Hits Deep Tour 2023."
Having sold over 10 million albums and winning seven Grammy Awards, TobyMac also places himself on the lineup for one of the artists with the most No.1 hits on the Billboard Christian Songs chart. He's also the third Chritsian artist to bag a #1 on the Billboard 200 with his 2012 album "Eye on It".
His biggest hit singles include "Made to Love", "Lose My Soul", "City on Our Knees", "Get Back Up", "Me Without You", "Love Broke Thru", "I Just Nee U.", "Everything", and many more.
With a new and powerful album out in the airwaves, TobyMac explores songs of faith that explore sadness and grief, reflecting the heavy journey of the loss of his eldest son. Though featuring songs of sadness and mourning, TobyMac still declares the goodness of God through it all. "God has been kind enough to show me that there is life after death," he shared before the album's release. "It's hard to even say because I almost at times don't want life. I think I'm cheating somehow on my son. But somehow or another I've learned that God is good."
Asked about getting back after his son Truett's death, TobyMac shares about life and his music, "That's how I do it: I live life, meet people, get inspired, live through some pain, sweat a little, get hurt or get lifted up, watch humanity and write songs".
With a heavy journey and great faith to live through, TobyMac is back and ready to exalt his name even greater with a new chapter in his life, sharing it with thousands of believers at the annual Hits Deep Tour. Get ready to let go, and let God at 2023 Hits Deep by booking your tickets now!