Texas Trust CU Theatre at Grand Prairie | Grand Prairie, Texas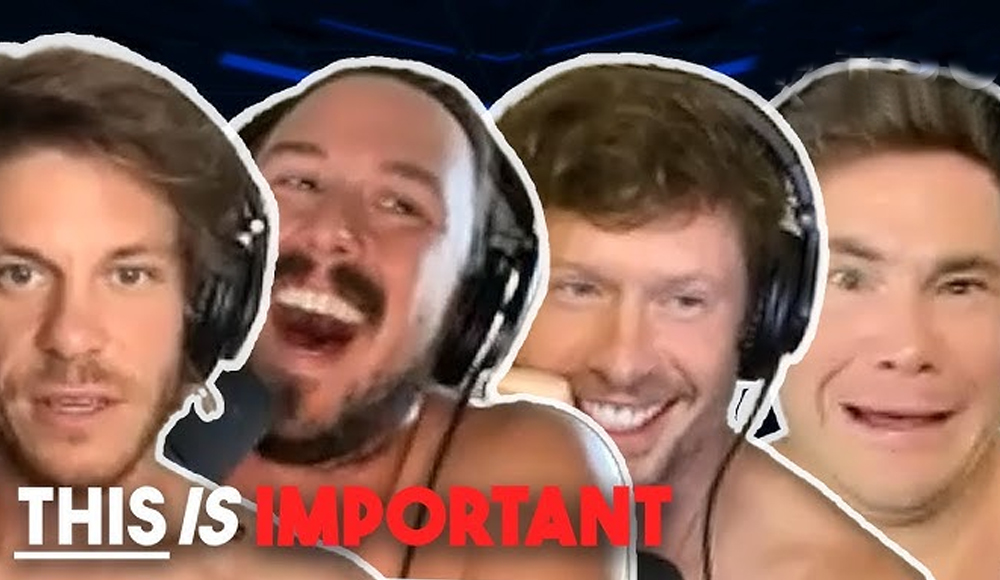 Your favorite comedy-infused podcast is hitting the road! Adam Devine, Anders Holm, Blake Anderson, and Kyle Newacheck, the co-creators and co-stars of Workaholics, are taking their acclaimed podcast on a national tour. THIS IS IMPORTANT! This time around, they're taking their deep conversations about grown men fighting children, naked grandmas, boners, and a bunch more hilarious takes on anything under the sun to the big stage. Part of their massive THIS IS IMPORTANT [LIVE] trek is a special stop at Texas Trust CU Theatre on Friday, 10th of November this fall. The bunch of men say "Listeners get to be a fly on the wall" as you'll stick around flying across their hilarious spiels and conversations from dirty business to serious grown-up talks. Having mastered the art of turning any conversation into comedy-genius acts, it's definitely one heck of an important show that you can't miss. Book your tickets now!
Attention, please! THIS IS IMPORTANT! The co-creators and co-stars of Workaholics are bringing their famed comedy-infused podcast on tour. THIS IS IMPORTANT [LIVE] is hitting the big stage across the nation, stopping by Texas Trust CU Theatre on November 10th for an astoundingly hilarious show of their iconic conversations brought to life. Diving deep into serious discussions on boners, naked grandmas, diarrhea, and grown men fighting children, it surely is an important show you can't miss!
For a couple of years now, the unstoppable bunch has continued to drop hilarious podcast episodes, mastering the art of turning anything under the sun into effortlessly hilarious conversations. With tens of thousands of weekly listeners and subscribers, it is without a doubt that these guys can effortlessly entertain.
"Workaholics" was a comedy TV series about a group of roommates who worked as telemarketers, exploring life's antics all day round. Living life with fellow bros, the show highlighted these fine men's talent for making the most out of a what-may-be boring life through endless post-college parties after working a day job they hate.
This time around, the bros are still alive and kicking. The cult heroes of unhinged comedy are keeping the bro conversations afloat. From All-Star games to massive boners, buttholes, and other important topics, they've got you covered. Taking their beloved insanity off of your screens to the big stage, it's definitely a show you can't miss.
Talking about the most serious [unimportant] issues that Americans face in this age, the bros got the whole nation hooked!
Adam Devine, one of the famed stars of Workaholics and the comedy-gold podcast previously shared that an unfortunate event in his childhood was what led to his passion for comedy. Known for turning anything under the sun into spiels that share joy and laughter, his backstory may come as a surprise.
At the age of 11, Devine suffered a horrific accident, being hit by a cement truck as he was on the way home. "Broke everything from my waist down besides my right femur and then crushed everything from the knees down and took it all my skin off," he shared.
Miraculously recovering without the need for amputation, he still needed to attend over 20 surgeries leading to his first year in high school. "After that, I couldn't do anything, anytime anyone would make fun of me, my dad was like, 'You can't get into fights so you gotta punch them back with your words, think of some funny things to say back to them'," he recalled.
Now, he's living life to the fullest with his eternal 'bros. Coming off of your screens and onto the live stage, THIS IS IMPORTANT. Book your tickets now!