Texas Trust CU Theatre | Grand Prairie, Texas
Multi-Grammy Award-nominated Christian R&B and pop-rock artist Tauren Wells just released his newest praise and worship album "Joy In The Morning", hoping to spread joy in the midst of grace. In support of his fresh new record, the worship leader is set to embark on the Joy In The Morning Tour, stopping by to lead believers into a moment of praise and worship at Texas Trust CU Theatre on Friday, October 28th, 2022. The album features his new tracks "Fake It" feat. Aaron Cole, "Empty", "Has To Be God", "Come Home", and many more. The 27-date trek is set to bless the ears of his fans to the presence of the Almighty as they come together to sing praises of Joy. So, it's time to joyfully book those tickets now!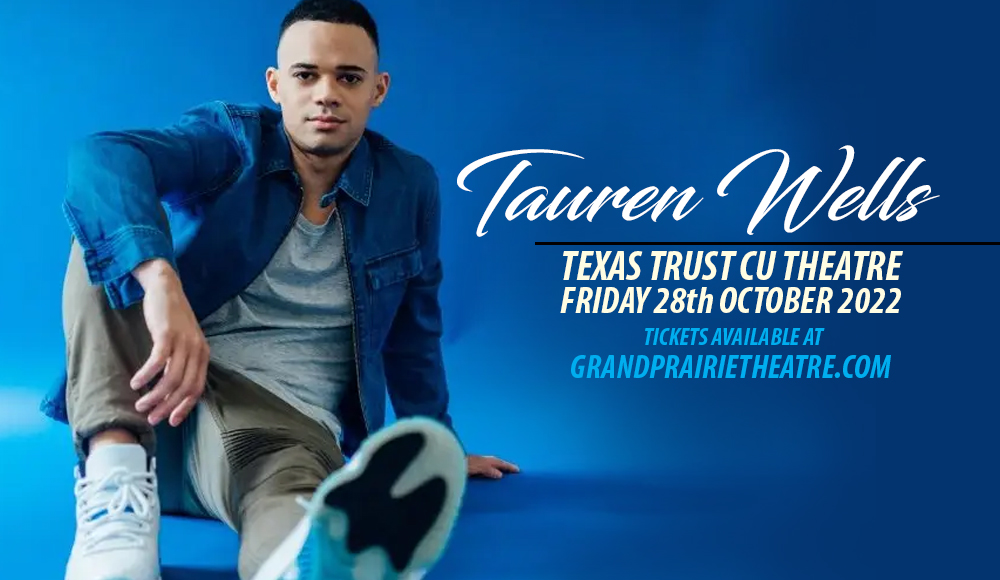 Tauren Wells is embarking on an extensive headlining tour in support of "Joy In The Morning", his newest album that features his songs "Fake It" feat. Aaron Cole, "Empty", "Has To Be God", "Come Home", and many more. As a Christian praise and worship leader, singer-songwriter, and performer himself, Wells is pumped up to call believers to the altar and sing joyous praises he has up his sleeves all dedicated to the One.
"Performing is my favorite part of what I do. I love it," shared Wells. "I love the entertainment aspect of it – just being able to get out there and dance and sing and crack jokes and tell stories. It is life-giving and it's a great privilege to have people showing up every night to go there together."
Since his 2016 solo debut with his "Undefeated" EP and 2017 debut album "Hills and Valleys", Wells has captured the hearts of believers in leading praise and worship tracks that speak volumes of honesty and faith. His singles "Hills and Valleys", "Known", "When We Pray", "Until Grace" with Rascal Flatts, and "Famous For (I Believe)" featuring Jenn Johnson, have all planted and bloomed seeds in believers' hearts around the world.
Tauren Wells has been nominated at the Grammy Awards eight times and has won four GMA Dove Awards to date.
With three albums in throughout his solo career, Wells shared in an interview with Billboard that the record comes 'from a place of freedom and honesty', expressing that making the album was a special moment in his life.
"My hope for this [album] is that people become aware of how they are feeling and that somehow these lyrics and melodies give them language to something they haven't been able to quite put their finger on yet." Wells told Billboard.
As 2022 marked the big return of people flocking to concert venues, the altar awaits the presence of believers coming together as Tauren Wells leads praise and worship with his joyous songs of hope off of his new album, and his best hits for everyone to exalt their faith right from the heart.
Join Tauren Wells and all of God's people at Joy In The Morning Tour by booking your tickets now!