Texas Trust CU Theatre | Grand Prairie, Texas
Oink! Today is the day! Come on and join Peppa, George, and her friends Suzy Sheep, Pedro Pony, and Gerald Giraffe on an adventure of a lifetime as they take you camping in the woods in Peppa Pig's Adventure at Verizon Theatre at Grand Prairie on Friday, 18th of March, 2022. The cheeky little pig is calling all her friends to join the fun, play, and sing along as they go on an adventure! So, grab your little piggies as Peppa Pig, Daddy Pig, and her friends can't wait to welcome them aboard the bus to Peppa Pig's Adventure. Book those tickets now!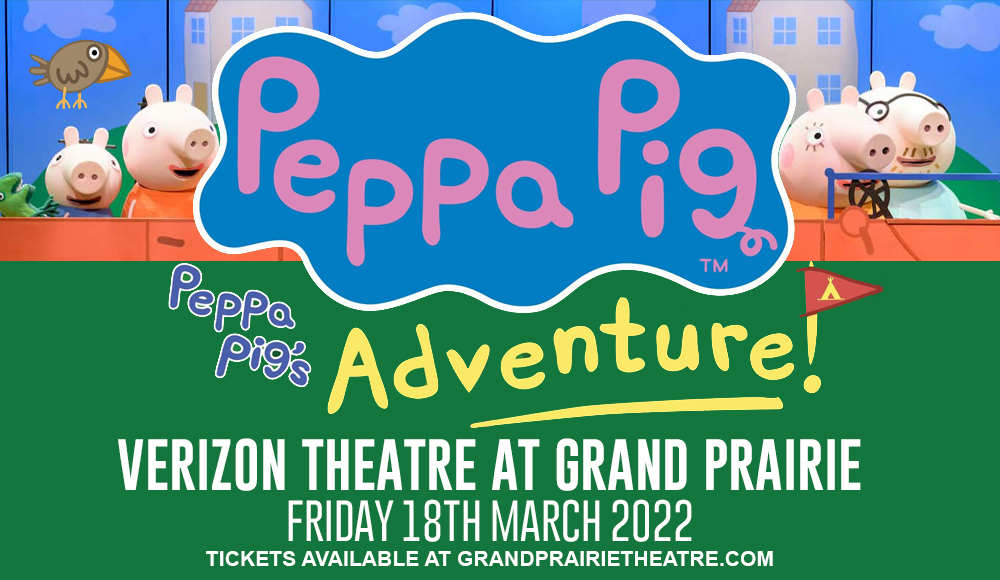 The cheeky little pig, Peppa, took the world by storm with her saucy attitude and British accent that taught kids all over the world to start speaking English. Peppa Pig is the #1 streamed pre-school show around the globe, with kids across the world joining Peppa and her friends through different adventures in each episode.
Singing, dancing, games, and surprises are in store for your little ones as Peppa leads the way on this adventure of a lifetime as your child's favorite animated friends come to life, live on stage.
"We can't wait to bring this delightful and captivating show, featuring such beloved characters, to audiences across the country," says the tour's producer, Stephen Shaw.
In an exclusive clip, the cast, Peppa, and her friends sing "Today is the Day", a fun song about how excited they are getting ready for their camping trip. Peppa and her friends are eagerly excited to meet your kids and take them camping in the woods where they can sing, dance, play games, and have fun!
The adventure awaits, Peppa and her friends hope that your sons and daughter's 'mommy pig and 'daddy pig could book those tickets now and join them on this trip. It's the perfect chance for a family-friendly trip with the little ones as venues across the country come back to life. Book those tickets now!