Texas Trust CU Theatre | Grand Prairie, Texas
Who would want to miss a live concert from an artist who's got over 17 million subscribers and 4 billion views on YouTube? Well, definitely not you! Shout out and send high fives to your friends raring to catch Pentatonix at Verizon Theatre at the Grand Prairie on Sunday 22nd December 2019! With fans and a gazillion of followers from all over, you've got yourself a Christmas present from your favorite a cappella pop/soul group as the Pentatonix is coming to town and spread Christmas cheers. So you better watch out because tickets are moving out really fast, and book one right now so you better not cry! The Pentatonix is coming to town, catch the beat while you can!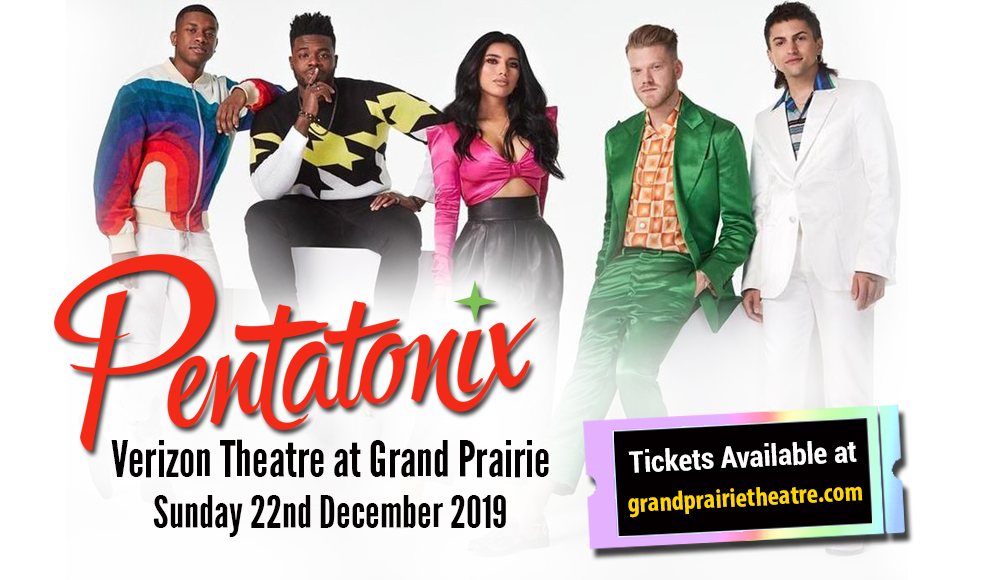 A live concert with no musical instruments whatsoever, and definitely no backing tracks. Yet a cappella pop/soul group the Pentatonix can perform a wide range of musical genres ranging from electronic, reggae, pop, hip-hop, dubstep and even classical. And for this specific tour, best-loved Christmas carol classics are sure to pop out of Santa's bag. That's the music and magic that the Pentatonix can magnificently showcase in this "Pentatonix 2019 Christmas tour".
The Pentatonix are an a cappella group from Arlington, Texas, consisting of vocalists Scott Hoying, Mitch Grassi, Kirstin Maldonado, Kevin Olusola, and Matt Sallee. With their ingenious vocal arrangement and harmonies, they can produce basslines, riffing, percussion, and beatboxing, to render their ultramazing versions of modern pop, rock, hip-hop down to the classics and Christmas songs, sometimes looped and mashed-up into one superb production number.
The Pentatonix were winners of the third season of NBC's "The Sing-Off", a receiving $200,000 prize and a recording contract. They're definitely riding high on digital video and music space with over 17 million subscribers and 4 billion views on their YouTube channel. With hit charting singles and albums plus multi-platinums to their name, the Pentatonix are also three-time Grammy Award winners — the first a cappella act to win Best Arrangement, Instrumental or A Cappella, in 2015 and 2016, and Best Country Duo/Group Performance in 2017.
This is one of those moments where you have to treat yourself to show that could surely blow you away. But don't blow your chance — book those tickets now!