Texas Trust CU Theatre | Grand Prairie, Texas
CALLING ALL VERY IMPORTANT PUPS! Ryder and his team are making their way to the Texas Trust CU Theatre on Saturday, the 14th of October, 2023. Yes, you heard that right! PAW PATROL LIVE is coming to a theatre near you. We hope you're ready because the pups are asking for your help to come and save the day!
The world needs your help! Mayor Humdinger kidnapped Robo Dog and cloned him, causing chaos everywhere. Join the pups as they try to save the day and defeat Mayor Humdinger and his Robo clones! Here is your chance to become one of Adventure Bay's mighty heroes.
Ryder and the pups are waiting on you – don't let them down! Join the show and buy your tickets right now. Click on "GET TICKETS" to save seats for the whole family. Hurry up because slots are selling fast!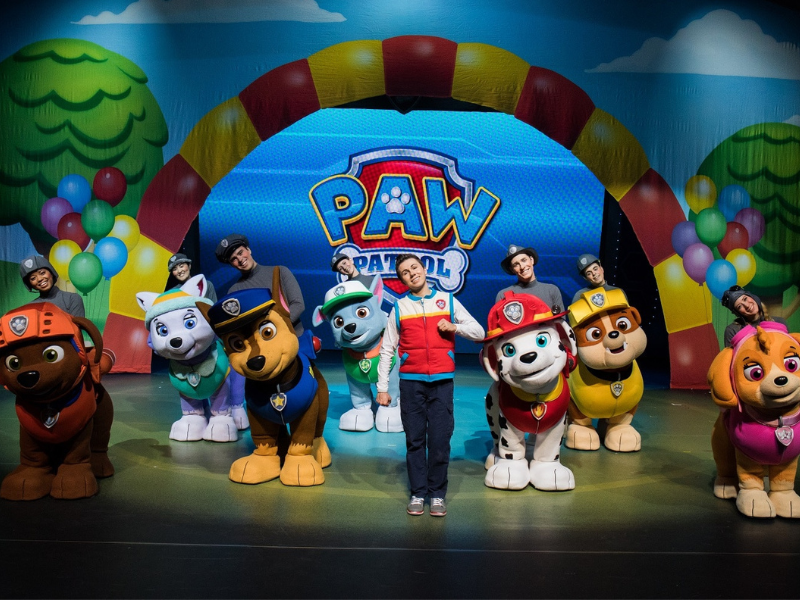 Paw Patrol is a Canadian animation series that gained popularity this last decade among children worldwide. It's no wonder this show is loved by both children and parents— the pups are positive examples to young kids, and they are good role models! Always ready to save the day and lend a helping hand, PAW Patrol will never let you down!
Each dog in the team has their own unique skill set based on different emergency services professions. With their special pup packs, they have everything they need to defeat the bad guys!
Spin Master expanded the PAW Patrol franchise and released a whole line of super fun toys! We're certain every single fan in the world owns one! The release was very successful, with lots of safety features and reminders to keep younger bubbas safe from choking hazards.
Following the PAWsome success of the series, the producers turned it into a hit movie. PAW Patrol: The Movie was super cool and featured an hour and thirty minutes of straight adventures and bravery from the pups! Later this year, the sequel to that movie will be released.
Now, PAW PATROL is set for a LIVE ACTION tour, and here's what people had to say about it:
"Featuring stunning visual effects, captivating storytelling, and a vibrant musical score that will have guests dancing in their seats and singing along. This staged extravaganza is jam-packed with action and fun for the whole family," a release from the WAC said.
"It was such a cute show, and they did a great job keeping the kids and the adults engaged," said Karen Lear, a mom of three.
"features artistic and creative visual effects, a heartwarming script and screenplay, as well as an enchanting musical score," said the Digital Journal.
If you're still unconvinced, come to the show and see yourself! This action-packed event will surely keep you and the rest of the family on the edge of your seats. Singing, dancing, and clapping along to the pups from Paw Patrol!
Click on "GET TICKETS" right now to save seats for you and the entire family before they run out!