Texas Trust CU Theatre at Grand Prairie | Grand Prairie, Texas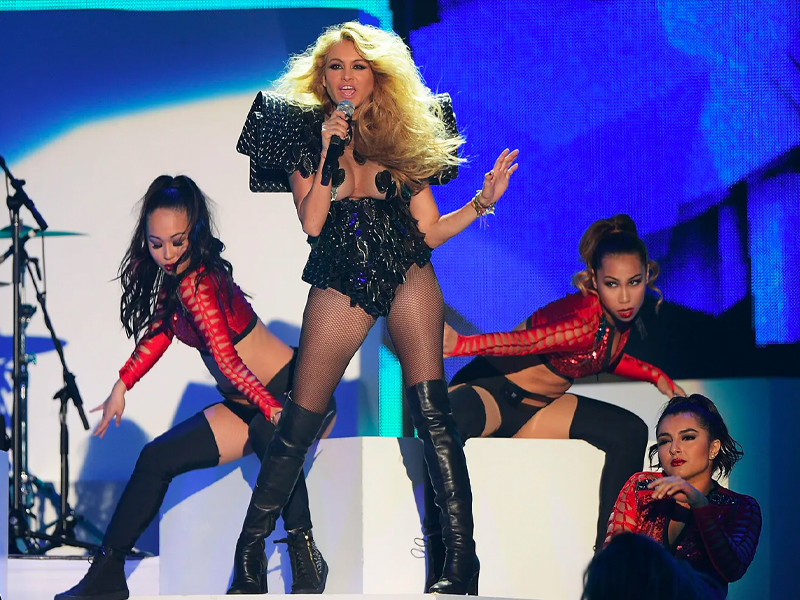 Paulina Rubio will surely be singing her hit song "Don't Say Goodbye" this September 17 at the Texas Trust Cu Theater. Still, you will be saying goodbye to boredom on this memorable Sunday night as the Queen of Latin Pop offers an incredible concert at the iconic Grand Prairie, Texas venue. Catch the Mexican superstar in an evening filled with infectious pop melodies, Latin rhythms, and charismatic vocal performances. Whether you have been a fan since her early days with her group Timbiriche or have just known her in her stint as an X Factor judge, seeing her live is definitely worth your time. With over 20 million albums sold worldwide and being active in all forms of media, the popstar is definitely on top of her game. And this concert, among many others, will prove why she remains one of the top Latin stars in today's generation. This well-rounded artist will set the Texas Trust CU Theatre stage on fire. So be sure to grab your tickets early because they will likely sell out soon. Hit the "Get Tickets" link to reserve yours today.
Paulina Rubio is a Mexican singer-songwriter and actress. She holds the titles "The Golden Girl" and "Queen of Latin Pop." She has dominated the Latin pop scene since the 90s. From her stint as part of a pop group to an illustrious solo career, she never failed to impress in Mexico and other Latin countries.
Paulina Susana Rubio Dosamantes grew up in the limelight. Her father was a well-known lawyer, and her mother, Susana Dosamantes, was an actress. "I've been famous since I was born," she said in an interview. Her first appearance was in a film when she was only a kid. At only nine years old, her singing career has started. A producer cast her to become a member of the children's pop group Timbiriche. The group was a hit in Mexico. Their debut was a self-titled album. As the members reached their teenage years, the band also transitioned to cater to the teenage audience. The album "Timbiriche Rock Show" signified this change. By the time they released their sixth album, they had become one of the most followed groups in Latin America. For their tenth release, Rubio became their leader and fronted many of their songs. As she reached adulthood, she decided to move on with her solo career.
She debuted in 1992 with the album "La Chica Dorada." Her single "Mío" was a critical hit. Her succeeding three albums, "24 Kilates" (1993), "Tiempo Es Oro" (1995), and "Planeta Paulina" (1996), were not as successful as her debut but brought her enough attention. Her subsequent album "Paulina" in 2001 became a chart-topping effort. This gave her a Latin Grammy nomination. This gave way for "Pau-Latina" (2004) and "Ananda" (2006) to succeed afterward. Her most successful record came in 2009, with the album "Gran City Pop." It topped the Latin Pop Albums. More albums came after, with "Deseo" (2018) as the most recent.
The Queen of Latin Pop will be performing at the Texas Trust CU Theatre on Sunday, September 17. Experience excellent Latin pop music from the queen herself! What are you waiting for? Get tickets now! You can do so by clicking the "Get Tickets" link.