Texas Trust CU Theatre | Grand Prairie, Texas
NCTzens wake up! It's time to take yourselves to the 'Dream World' as the sensational South Korean boy band, NCT DREAM, just announced US dates for their "The Dream Show 2: In a Dream World Tour. As they embark on their first-ever headlining tour in the US, the boys are jet-set to get the 'beatbox' go boom at Texas Trust CU Theatre on Friday, 14th of April 2023. Fresh from the release of "Best Friend Ever", NCT DREAM is taking the dreamscape to the next level. Don't miss out on sick beats, fresh looks, astounding choreography, and soaring vocals by the one and only NCT DREAM by booking your tickets now!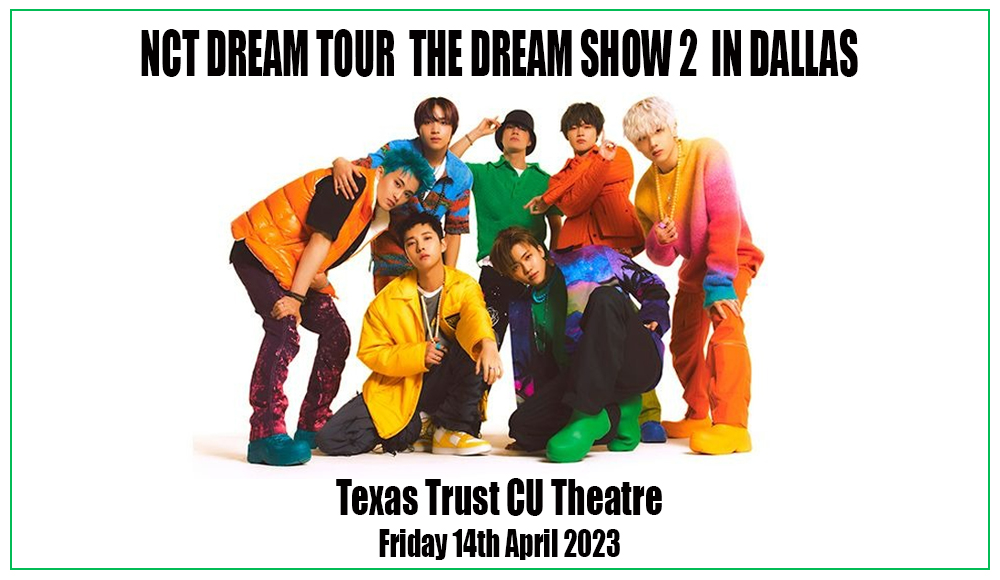 Get ready to live the dream as your favorite boys from the NCT universe, Mark, Renjun, Jeno, Haechan, Jaemin, Chenle, and Jisung, are hitting the live stage on The Dream Show 2: In a Dream, NCT DREAM's newest world tour. As the world tour announcement took fans around the globe by surprise, the band just also came in fresh from the release of their first Japanese debut single "Best Friend Ever", becoming the highest-selling album in the NCT universe on the Oricon weekly chart.
Currently, NCT DREAM is living in the dreamscape of their Dream Show 2: In a Dream, completing its Japanese leg, and soon flying to Southeast Asia for shows in Jakarta and Bangkok. After completing its Asia dream venues, the tour will traverse through UK and Europe, before embarking on its US leg.
Back in December, the acclaimed boy band released a holiday single "Candy", remaking H.O.T.'s classic '90s hit for the new generation. Giving a new flavor to South Korea's first "idol" group, NCT DREAM marks itself as the future of K-Pop. Much acclaimed for their astounding talent, amazing choreography, and heartfelt lyrical tales, NCT DREAM continues to grow and expand their dreamscape of loving NCTzens.
Debuting in 2016 and releasing their first EP "We Young" in 2017, the band steadily grew a fanbase, being featured on Billboard's "21 Under 21 2018: Music's Next Generation" and Time's "25 Most Influential Teens of 2018" list. With growing success in South Korea whilst making waves abroad, NCT DREAM found its mainstream breakthrough in 2021 upon the release of their first studio album, "Hot Sauce". Pre-orders skyrocketed to over 1.7 million copies, breaking record-sales. The album topped the Gaon Album chart, with its title track hitting #1 on the Gaon Digital Chart. In June 2021, the released its repackage, "Hello Future", serving three new hit songs.
"Just like the title 'Hot Sauce', the lyrics express our determination to show our hot sauce-like charms so powerful and stimulating that once you've had a taste of, you cannot escape from," Jaemin shared.
"We have a lot to showcase in terms of what we've experienced and shown throughout the years," Jaechan added.
In February 2022, the band released its second studio album "Glitch Mode", with over 2 million pre-orders, selling over 2.1 million copies in its first week. The album marked the band's first appearance on the Top 50 of the US Billboard 200. In May 2022, NCT DREAM released its repackage "Beatbox", featuring four new hit songs.
"We're going on our own path and making it up as we go," Renjun shared about Glitch Mode. "I feel like if we follow the mainstream tracks, NCT Dream could lose the path that we're trying to walk on, we wanted to show that we could shine with our own music taste."
NCT DREAM's hit singles include "Boom", "Ridin", "Hot Sauce", "Glitch Mode", "Hello Future", and "Beatbox".
As the dreamscape finds its way to the US, make sure to save your spots at the show by booking your tickets now!