Texas Trust CU Theatre at Grand Prairie
He is well-known for his 'bedroom jams'; but on 2nd March 2022, Grammy Award winner and four-time platinum album artist Maxwell will ascend the stage of the Verizon Theatre at Grand Prairie to take his audience on a sensuous serenade on his 'The Night Tour' With Anthony Hamilton and Joe. As one of the prime-movers of the neo-soul movement, Maxwell's has a distinctively sound that caresses the soul, and exemplary showmanship that leaves audiences transfixed and wanting for more. Maxwell is truly a dream, but the reality is, fans are not wasting another minute grabbing those tickets. Clock is ticking… Book your tickets now!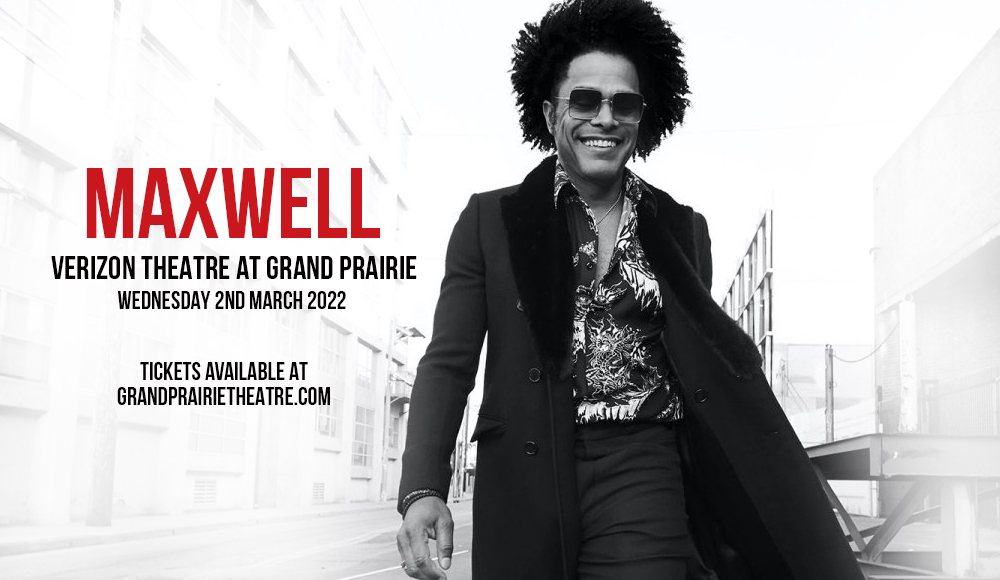 His signature puffy afro hair serves as a crown to the originator of the "neo-soul" movement that rose to prominence during the late 1990s. Maxwell's debut studio album "Urban Hang Suite" released in 1996, was certified 2x Platinum, being the first of four consecutive Platinum-selling studio albums. His sophomore album "Embrya" was released in 1998, followed by "Now" in 2001" and "BLACKsummers'night" in 2009. The latter was nominated for 6 Grammy Awards (winning two), including Song of the Year for "Pretty Wings". In 2016, his fifth studio album "blackSUMMERS'night" has garnered 3 Grammy wins out of 13 nominations, 6 Soul Train Music Awards, and 2 NAACP Image Awards.
Maxwell has been given the moniker "the Marvin Gaye of the '90s" by a columnist from the Washington Post, further adding that Maxwell's Urban Hang Suite "heralded the arrival of a top-of-the-class graduate of the old school of soul, one who could sing about romantic aspiration and tribulation with heart-wrenching emotion. It was as if the aesthetic that Gaye ascribed to — 'music that has feeling, hope and meaning – all the things people are looking for' — had been rediscovered after a long, hedonistic interlude."
In 2019, the Congressional Black Caucus Foundation and Congressional Black Caucus presented Maxwell with the Lifetime Achievement Award for "his innovative contributions to the music industry as a singer, songwriter, and producer".
Maxwell's 'The Night Tour' tickets are available right here, right now. Get your tickets now!