Texas Trust CU Theatre | Grand Prairie, Texas
An unforgettable night of blues rock will welcome music fans this November 4 at the Texas Trust CU Theatre as the one and only Joe Bonamassa brings his 2023 concert tour to the famous Grand Prairie venue. Get to witness the masterful guitar playing of the 46-year-old Grammy-nominated guitar wiz as he plays a combination of his old and latest hits, including "I'll Play The Blues For You," "Redemption," "Dust Bowl," and "The Ballad of John Henry," among many others. Get your tickets early to reserve the best seats in the venue. Prepare to hear the signature riffs from the virtuoso guitarist himself. Whether you are an OG fan of Bonamassa or recently discovered his music prowess through his #1 Billboard Blues album "Time Clocks," this concert will definitely rock your world. November 4 may be months away, but you can now reserve your tickets because ticket sales have begun. Click the "Get Tickets" link to secure yours now.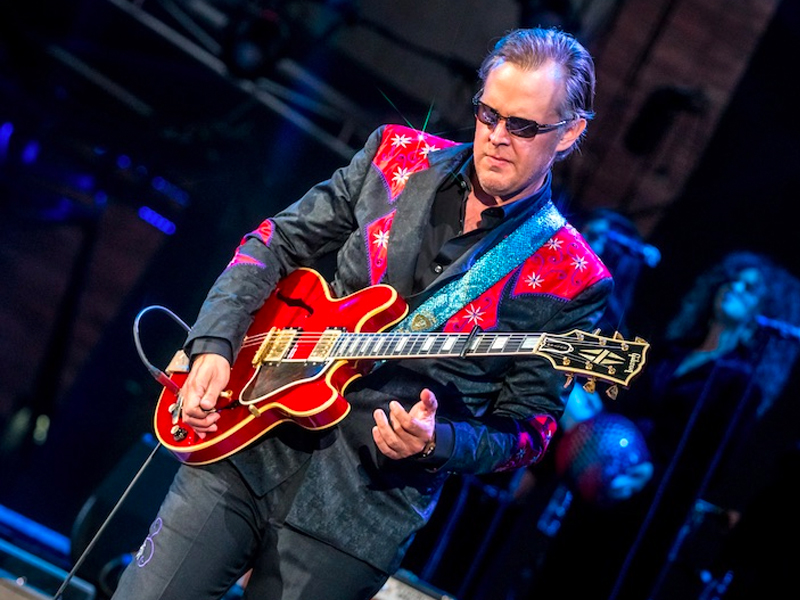 Joe Bonamassa is a blues-rock performer and singer-songwriter known to be one of the legends among guitar heroes. He has three Grammy nominations under his belt and recently just released an album, "Time Clocks," his 15th studio album throughout his career. The 46-year-old music composer and performer started even before he was a teenager and learned how to do the blues before he could talk. His music is highly influenced by British blues rock superstars Eric Clapton and Jeff Beck. Although he started young, his career took off in the 2000s, particularly after he teamed with producer Kevin Shirley.
Bonamassa was trained and mentored by American guitar legend Danny Gatton when he was eleven. He had his own band called Smokin' Joe Bonamassa, which would go on to play around western New York and Pennsylvania. His prodigious gifts pushed the guitarist onto the national stage while he was still in his adolescence; before he could even turn eighteen, he was able to play and open up for B.B. King at approximately 20 shows. By the 2000s, Bonamassa released his own studio album, "A New Day Yesterday," which became the artist's first exposure to building a wider audience. The album would slide Bonamassa in the perfect momentum over the subsequent albums. Three studio albums hit No. 1 on the Billboard Blues charts, and all five of his solo studio albums made the Top 10.
In 2012, Bonamassa released "Driving Towards The Daylight," which would serve as his 10th studio album and the reunion of Bonamassa's long-time producer Kevin Shirley. The album was a significant blues hit; it topped the Billboard blues chart and debuted at number two on the overall British chart. Before another decade was over, Bonamassa would go on to play with blues and guitar heroes like Eric Clapton and Paul Rodgers; his first solo album, "Different Shades of Blue," would reach No. 8 on the Billboard 200, No. 1 on the blues chart, and No. 1 on the indie chart. Bonamassa didn't stop there and was able to garner three Grammy nominations for his success and hard work for Seesaw in 2013, Live at the Greek Theatre in 2016, and Royal Tea in 2022.
This year Bonamassa has announced his 2023 tour, set to support his new and 15th solo studio album, "Time Clocks." Grab those tickets now and get a chance to see the legendary undisputed guitar hero perform live at the Texas Trust CU Theatre on the 4th of November.