Texas Trust CU Theatre | Grand Prairie, Texas
Talk Show host and comedian Jay Leno comes to Verizon Theater at Grand Prairie on Saturday 7th December 2019.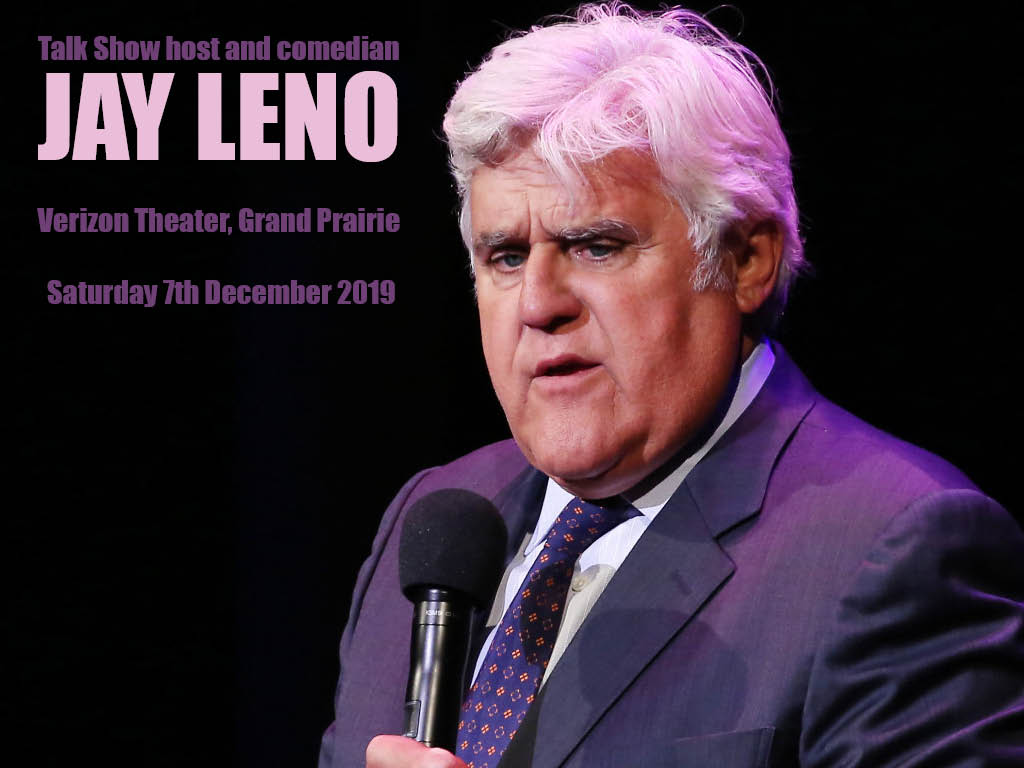 Jay Leno! One of the most recognizable figures from television talk shows, Jay Leno started his career doing stand up comedy, before being picked up NBC's The tonight Show with Jay Leno which ran from 1992 to 2009 when he switched to his prime time talk show, The Jay Leno Show which sadly was canceled amid some controversy in 2010. Jay returned to The tonight show with Jay Leno and hosted it right up to 2014 when he was inducted into the Television Hall of Fame. Since then he has hosted his show, Jay Leno's Garage.
During his career as television host and comedian he has been nominated for and won many outstanding awards such as, Primetime Emmy Award for Outstanding Variety, Music, or Comedy Series, TV Guide Award for Favorite Late Night Show twice, TV Guide Award for Favorite Late Night Show, People's Choice Award for Favorite Late Night Talk Show Host, Prime time Emmy Award for Outstanding Short–Format Non-Fiction Program, Hasty Pudding Man of the Year and the Mark Twain Prize for American Humor.
Jay Leno's Garage is his currently running show and website where he takes us on the road in his many cars, Jay owns approximately 196 cars and 117 motorbikes! Including two steam cars, one of the last remaining Chrysler Turbine Cars, a jet powered motorcycle!
"On stage, there was no settling in with "Nice to be here" or "Hi Toronto." Just a barrage of quips about U.S. news headlines and pop-culture references — from Clinton's and Kardashian's to cars and fast food.
On a recent study that suggests women talk three times more than men: "That's because men aren't listening the first two times."
Setup. Pause. Punchline. Repeat. And repeat again." – The Star