Texas Trust CU Theatre at Grand Prairie
She's got R&B music filled with soul and jazz where she reveals her smooth vocals and catchy melodies. H.E.R., who also goes by the name Gabriella Wilson, is set to take the stage at the Verizon Theatre at Grand Prairie on Wednesday, 13th October 2021 for her "Back of My Mind Tour. H.E.R. stands for "Having Everything Revealed", as she unleashes her touch of beauty in the power of sound. She recently dropped her debut album, "Back of My Mind" reaching #6 on the Billboard 200 and #1 on the R&B charts. Exclaim describes the album as "Ephemeral R&B vibes… tremendous comfort in adapting her signature sounds…". Don't miss out on a soulful night to vibe with H.E.R.'s new music and fan-favorite hits such as "Best Part" with Daniel Caesar, "Could've Been" featuring Bryson Tiller, "Damage", her latest single "Come Through" featuring Chris Brown, and many more! The best part is, you can book your tickets now!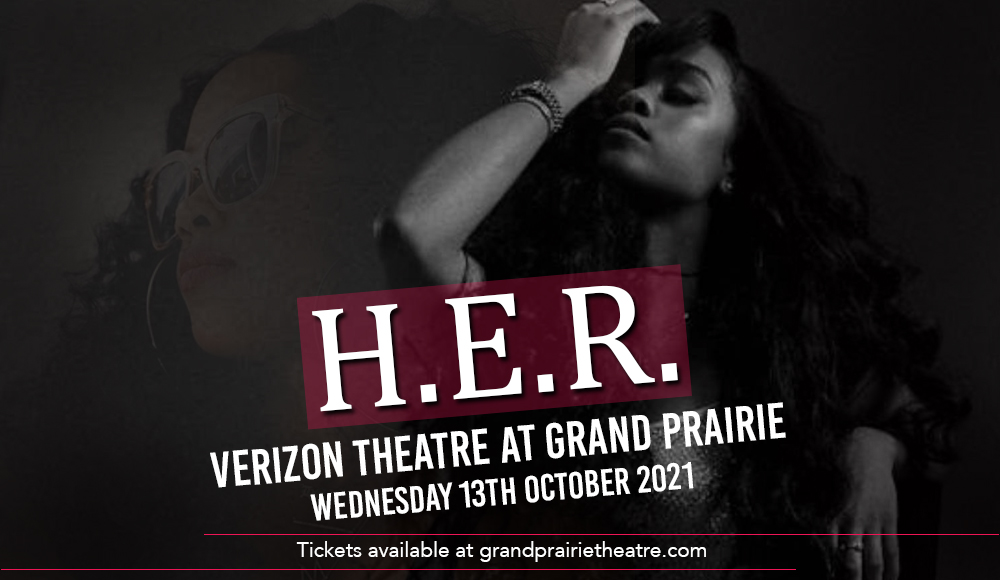 Gabriella Sarmiento Wilson was raised in California, born to a Filipina mom and an African American dad. She's been acclaimed as a prodigy having performed on a piano on the Today Show at ten, an acting debut at nine with Nickelodeon, also performing on Good Morning America, The View, Radio Disney, and more.
By 2011, she released her first single "Something to Prove". Years later as she re-emerged by 2016, she indeed had something to prove as she dropped her first EP, "H.E.R. Vol 1", with support from the likes of Usher, Tyrese, Alicia Keys, and more. Early 2017, Rihanna posted a clip on Instagram with H.E.R.'s "Focus" playing in the background which garnered attention with more than 5 million views. Her music caught the public eye as the likes of NPR, Forbes, and Rolling stone gave her praise including her in lists such as "10 Artists You Need To Know", "5 Alternative R&B Artists to Look Out for in 2017", etc.
She then went on tours and released 4 more EPs from 2017 to 2018. Her hit duet "Best Part" with Daniel Caesar received praise and awards such as Best Collaboration Performance at the Soul Train Music Awards and a Grammy for Best R&B Performance. She also won a Grammy for "Best R&B Album" in 2019.
Now with an album and a soulful voice that soothed the ears of audiences worldwide, she's set for a bright stage ahead. Save the date, October 13, at the Verizon Theatre at Grand Prairie. Book your tickets now!