Texas Trust CU Theatre | Grand Prairie, Texas
The sensational Latin trio, Eslabon Armado, are hitting the stage at Texas Trust CU Theatre on Saturday, October 15th of 2022. The band's latest record "Nostalgia" made history – debuting at #9 on the Billboard 200, the first act with a Latin album to hit the top ten on the Billboard 200 since Santana's Africa Speaks in 2019. Eslabon Armado rose to global acclaim in 2020 after the release of their chart-topping album "Tu Veneno Mortal" which features the crowd-favorite hit "Con Tus Besos". Don't miss out on the chance to watch Eslabon Armado's live in concert, along with big surprises, by booking you tickets now!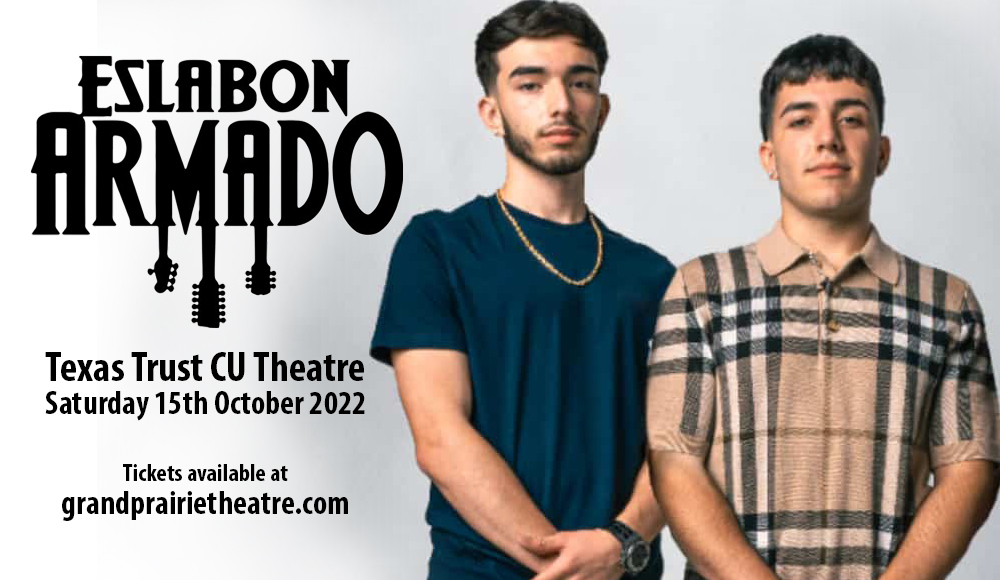 Formed in 2017, friends Pedro Tovar, Gabriel Hidalgo, and Bryan Tovar formed what the world would soon discover – Eslabon Armado. Influenced by the music their parents grew up listening to, they played rancheras and norteño music, and then had inspiration from the late Ariel Camacho's sierreña music. Soon after, the group went live on YouTube, catching the attention of Del Records boss, Angel del Villar.
Their major label debut single "Con Tus Besos" was released in March of 2020, peaking at #21 on the Hot Latin Songs charts.
"I started to write románticas (romantic songs) after watching tons of romantic movies," Pedro told Billboard. "But that song ['Con Tus Besos'] specifically, is the last song on the album because I didn't love it. I made a lot of mistakes on that one when we were recording the album and wasn't going to add it. But then my mom convinced me to include it, and I never expected this song would do so well."
Later on, their debut LP "Tu Veneno Mortal" peaked at #1 on the Regional Mexican Albums chart, and five months later their follow-up record "Vibras de Noche" hit #1 on Latin Albums charts and #18 on the Billboard 200.
In an interview with Billboard, Pedro shared that their major accomplishment is "For our music to reach an audience beyond the U.S. and Mexico. The other day I was doing a live on social media and people from Colombia, Venezuela and Central America were connecting saying that they listen to our music."
Releasing their newest record "Nostalgia" which marked history with its debut at #9 on the Billboard 200 charts, Eslabon Armado is taking the global stage by storm with their new songs such as "Si Supieras" with DannyLux, "Vete a la Fregada", and "Luces Rojas".
Eslabon Armado is soaring high with California-based members Brian and Pedro Tovar, Ulises Gonzales, and Damian Fidel Pacheco. "We never expected to debut so high, it's truly a blessing," Pedro told Billboard. "We hope this becomes our best project; we really love it."
With a big new record and a release that marked history for the band, catch the one and only Eslabon Armado perform live on stage at Texas Trust CU Theatre on October 15th by booking your tickets now!