Texas Trust CU Theatre at Grand Prairie
Experience music that could lift your spirits high with a message of faith, hope, and love. Elevation Nights 2020 is the first arena tour for Grammy-nominated Christian artist Elevation Worship along with Pastor Steven Furtick, founding Pastor of world-renowned Elevation Church. Their music has not only inspired its church members during their Sunday worship services. Their songs have crossed-over to mainstream and social media, topping Billboard charts and garnering millions of streams, views, and subscribers from all over the world. Now they're taking their live performance beyond church walls, expanding their audiences to concert halls and arenas the world over. Check out Elevation Nights: Elevation Worship & Pastor Steven Furtick at Verizon Theatre at Grand Prairie on Thursday 28th May 2020. Book your tickets now!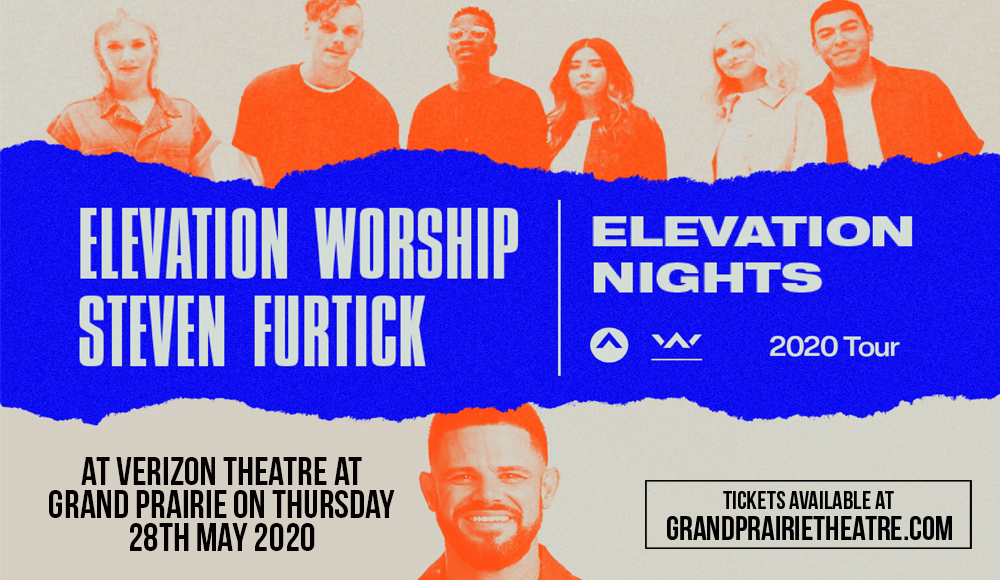 Elevation Worship began in 2007 at Elevation Church in Charlotte, North Carolina. From their local church services, this music ministry has evolved and expanded to concert stages in many parts of the globe.
Elevation Worship began releasing albums independently in 2007. Their 2010 album released titled "Kingdom Come", featuring the song "Give Me Faith", became the band's first album to break through on the Billboard charts, reaching No. 5 on Heatseekers, No. 42 on Independent Albums and at No. 17 on the Christian Albums chart. In 2011, they were signed to a major label and saw their succeeding album releases making its way onto mainstream charts. The album "For The Honor," saw chart action as it entered the Billboard magazine charts, including No. 1 on Heatseekers, No. 19 on the Christian Albums, and the Billboard 200 at No. 193. The album "Only King Forever" which featured guest vocalist Darlene Zschech from Hillsong Worship, in 2014, debuted at their highest charting position, No. 23 on the Billboard 200. Elevation Worship also holds a significant social media following. They have 1.2 million subscribers on YouTube and a combined 551 million views.
At the helm of the Elevation Worship is Pastor Steven Furtick, founding Pastor of world-renowned Elevation Church. Steven Furtick is a pastor, songwriter and New York Times best-selling author. He has an influential clout of nearly 4 million followers on Facebook and 2.2 million on Instagram, that has ushered the growth of the multi-site Elevation Church into a global ministry through online streaming, television and the music that he often writes in collaboration with Chris Brown and other members of Elevation Worship.
Elevation Worship was instroduced to the world concert stage, supporting mega Christian bands like Casting Crowns and Hillsong Worship. Now the group is venturing out as an headliner act for their very first arena tour dubbed as "Elevation Nights".
"I absolutely love being able to carry the songs from our church to different cities when we tour," Brown said. "But having Pastor Steven out with us each night for the full Elevation experience is something we've been dreaming about for years. Can't wait to bring the Elevation Nights 2020 Tour to a city near you!"
Indeed, they're just about to drop by the neck of the woods for this show at the Verizon Theatre at Grand Prairie on Thursday 28th May 2020. Lock-in that date and book your tickets a.s.a.p. !