Texas Trust CU Theatre | Grand Prairie, Texas
It's time to take the little one on a big adventure as his cheeky virtual friend, JJ, is coming off of their screens and onto the live stage at CoComelon Live! The cute little kid has joined millions of kids to learn the alphabet, sing nursery rhymes, dance, and ultimately have fun. CoComelon became a global sensation for its adorable and welcoming characteristic that never fails to catch kids' attention. As their favorite show comes to life on the CoComelon Live! Tour, make sure your little one is in for an adventure with the beloved JJ! CoComelon Live! is hitting the stage at Texas Trust CU Theatre on Wednesday, 28th of September 2022. Book your tickets now!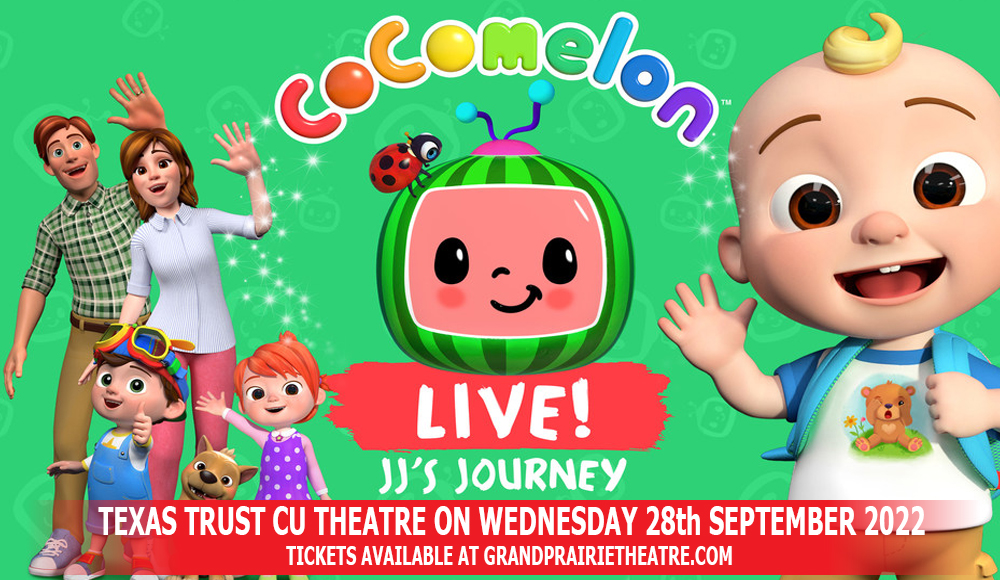 Parents, older brothers, and sisters around the globe have surely heard found their little toddler calling their friend, JJ!, as they hop on adventures learning how to recite the alphabet, count from one to ten, or discover that school bus' wheels go round and round… With JJ and his family keeping the little one company, parents across the world definitely know CoComelon and JJ like they're part of the family. Well, as theatres across the country spring back to life, even the little ones are in for a treat as JJ gets off the screen and hits the live stage at CoComelon Live!
In a unique interactive musical adventure, JJ invites you and your little ones to join them on a day of singing, dancing, and laughter as JJ takes you on an adventure that'll surely be the highlight of your little one's childhood. Even the parents can have fun as you'll get to see JJ and his family in action, spreading joy, happiness, and new learnings for your child like never-before as the show emerges onto the live stage.
"If you know kids who are obsessed with CoComelon and parents or family members who catch themselves singing along, this show is the perfect combination of a high-quality production for adults and consistent audience engagement to keep the kids entertained," shared Glenn Osher – producer of CoComelon Live!
The show promises magical special effects, over twenty songs including new ones and new dances. CoComelon live is the ultimate adventure with JJ that your kids could ever dream of!
The press release shared a review of the first leg of their tour saying "The visuals and choreography were nothing short of amazing!" and "So much fun for the kids and even the adults!"
The tour's press release also shared that the show follows JJ's journey with his family as they're "putting on a show where JJ is writing his own song and he needs a little help. In the end, JJ learns that by using his imagination, he can create, solve problems and have wonderful adventures, proving that with a little help from your family and friends, you can make your dreams come true."
So, get ready to give your little one this amazing surprise as he gets to see his favorite friend off of his iPad or TV, hopping on the live stage where the whole family takes him on an adventure to remember! Don't miss out on this chance to bond with the whole family and JJ at CoComelon Live! by booking your tickets now!