Texas Trust CU Theatre | Grand Prairie, Texas
Bluey fans will surely be delighted to know that the Heeler family will be off-screen and take center stage at the Texas Trust CU Theatre for a two-night back-to-back show. Catch Bluey's Big Play, the theatre adaptation of the beloved Australian animation series, this January 7 and 8, 2023. The famous Texas venue is one of the stops of Bluey's Big Play Tour and will undoubtedly be packed with excited kids who love Bluey, Bingo, Bandit, Chilli, Muffid, and all other characters of the celebrated kids show. If you want your kids' first event in 2023 to be memorable, Bluey's Big Play is the place to be. Get tickets for its first night at Texas Trust CU Theatre on January 7. Don't miss this chance to experience Bluey and friends brought to real life.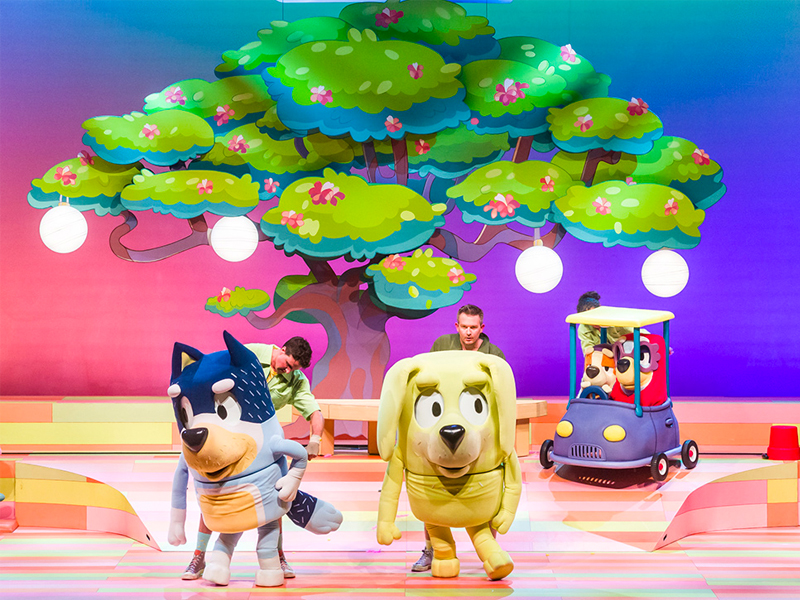 Bluey is an Emmy-award-winning Australian animated series airing on Disney Junior, Disney Channel, and Disney+. Bluey, a Blue Heeler puppy, is the protagonist of the show. Throughout the series, she is accompanied by Bandit, her father; Chilli, her mother; Bingo, her younger sister; and many friends as they engage in adventures through imaginative play.
Because of the show's massive success, a live theatre adaptation was made and toured around many theatres in Australia in 2021. This year it will be brought to the US.
"After seeing the amazing reaction the show received during its Australia run, we are delighted to bring this standout live theater show to U.S. audiences," says Windmill Theatre Co. director Rosemary Myers. "We know how much love there is out there for Bluey and are thrilled and honored to translate these brilliant characters into the three-dimensional world and to share this special experience with fans throughout America."
The show will feature puppetry, live actors, and memorable sets of the series, in addition to the new music of composer Joff Bush. Prepare to be swept away to the world of Bluey as you watch it live.
For fans of all ages, now is the time to reserve tickets. If you are close to or living in Grand Prairie, Texas, catch the show at the Texas Trust CU Theatre on Saturday, January 7, 2023.