Texas Trust CU Theatre | Grand Prairie, Texas
Make Sunday evening extra special for the kids this January 8th, and treat them to a one-of-a-kind event that will ultimately show their love for their favorite Blue Heeler puppy, Bluey! Grab your tickets for the second night of Bluey's Big Play at the Texas Trust CU Theatre. Watch your kids' eyes gleam in happiness as Bluey, Chilli, Muffid, Bingo, Lucky, and other favorite characters are brought to life on stage in this unique production. In this stage show, you will meet hundreds of other Bluey fans who share the same love for the characters of the celebrated Emmy award-winning show. If you missed grabbing tickets for the first night of the event in the famous Texas venue, this is your chance to secure tickets for the entire family. Hit the "Get Tickets" link to get yours now!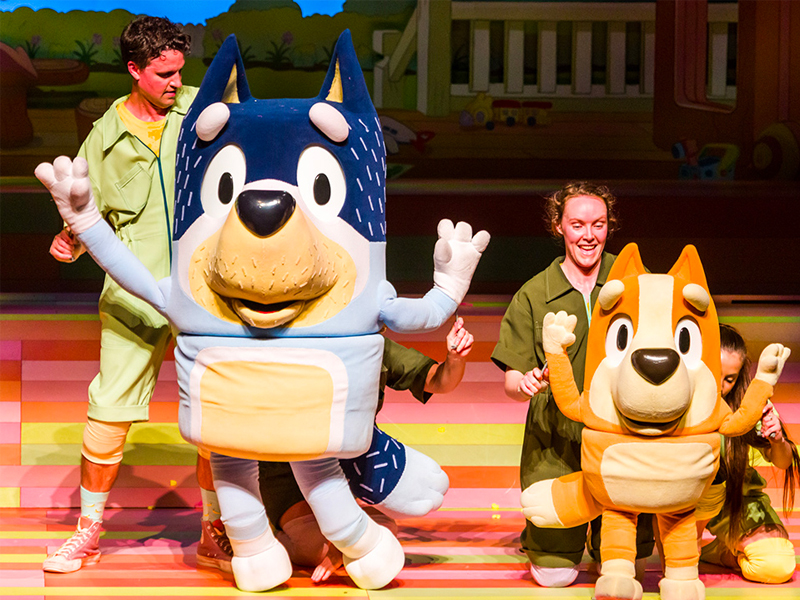 As an Emmy award-winning animated series, Bluey has captured the hearts of millions of children worldwide. Originally aired for Australian audiences, the animated series also airs on Disney Junior, Disney Channel, and DisneyPlus. The series features Bluey, a Blue Heeler puppy, who engages in adventurous and imaginative play with her family: Bandit, her father; Chilli, her mother; Bingo, her younger sister. With her many friends, Bluey takes on adventures that present nicely-crafted episodes filled with lessons that both kids and adults can enjoy and learn from.
Last year, the show had its very first live theatre adaptation. It was shown in various venues in Australia and was met with massive success. Many reviews stated how superb the puppetry was during the performances, and the backdrops and sets were bright and colorful, which kept the vibes of the television show. Because of the show's massive success, the live theatre adaptation will be brought to the US this year.
"After seeing the amazing reaction the show received during its Australia run, we are delighted to bring this standout live theater show to US audiences," says Windmill Theatre Co. director Rosemary Myers. "We know how much love there is out there for Bluey and are thrilled and honored to translate these brilliant characters into the three-dimensional world and to share this special experience with fans throughout America."
The celebrated show will start its US tour this November and will continue until June 2023. The production will stop at Texas Trust CU Theatre for a two-night show this January 7 and 8. If you haven't booked any tickets yet, don't miss the chance to see it live on Sunday, January 8. You can secure your tickets here by clicking the "Get Tickets" button. Be sure to grab your tickets here for a safe and fast transaction.