Texas Trust CU Theatre | Grand Prairie, Texas
An epic new adventure is coming your way as the hit children's TV series Blue's Clues & You hits the live stage, 'skidooing to stages across the country, with a pitstop at Texas Trust CU Theatre on Wednesday, 2nd of November 2022. The show promises Broadway-style scoring and dance productions that'll get you and your kids off your feet, singing and dancing along! Join Josh and Blue skidoo to an adventure of a lifetime at Blue's Clue's & You Live on Stage by booking your tickets now!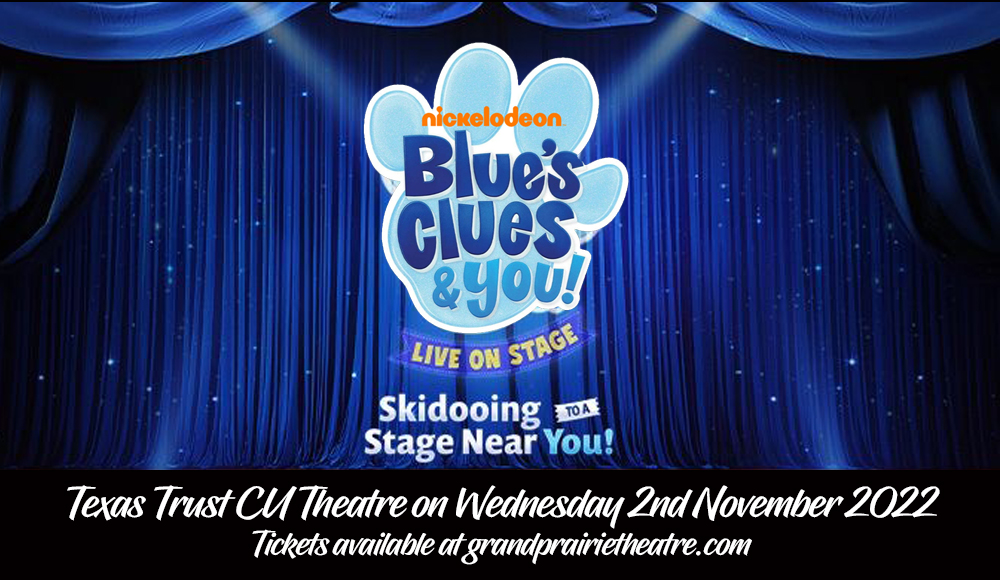 The global favorite Nickelodeon pre-school TV series, Blue's Clues & You!, is coming to local theaters near you. The fifty-city trek of the show's live theater show is stopping by at Texas Trust CU Theatre on November 2nd. Josh and Blue are set to take families on an epic new adventure, solving Blue's clues as they invite everyone to sing and dance along. The show promises a new and original Broadway-style musical adventure that'll surely get your kids singing, dancing, and laughing their hearts out as they take part in an immersive adventure experience with their favorite puppy.
"We are thrilled to bring Blue's Clues & You! Live On Stage to families all across the country," said tour producer Stephen Shaw. "Blue's Clues is a beloved show that has captivated children for generations. We are honored and excited to be bringing such iconic characters to the stage in a riveting, engaging production that the whole family will enjoy".
With an original new story from Blue's Clues co-creator Angela Santomero and the direction of theater production veterans John Tartaglia and Melanie Lockyer, the show is set to bring an adventure to remember for both parents and kids at theaters across the country. Attendees can expect well-crafted stage designs, creatively utilized LED screens and distinct puppetry art that'll transport you into a one-of-a-kind Blue's Clues experience.
"This brand-new production and the phenomenal creative team behind it truly deliver on our commitment to deliver the very best entertainment experience to kids and families." shared Pam Kaufman of Paramount.
Parents and kids all know that Josh Dela Cruz is the TV show's live-action host who helps and accompanies Blue and the kiddos on solving clues together. With Blue's Clues & You hitting the live stage across the country, the producers casted a dynamic stage performer who'll be playing the character of "Josh" in this epic live stage adventure.
During the show, audiences can expect Blue and her friends to make a rainbow, shoot a music video with a rainbow puppy, float around outer space, and many more as kiddos sing, dance, and laugh all throughout the show. So, don't miss out on an epic new adventure with Josh and Blue at Blue's Clue's & You Live on Stage by booking your tickets now!