Texas Trust CU Theatre at Grand Prairie
Previous road-buddies Ben Folds & Cake had such success with last year's joint venture (Pollstar reported it was one of the highest grossing co-headlining tour in 2018) that they're doing it again, and this time they're headed to Verizon Theatre at Grand Prairie on Thursday 19th September 2019 for the last stop on their 11-date stint! Joining them will be special guests Tall Heights!
"Cake are masters, and they happen to be my friends," Folds said in a statement. "So, yes, let's do this!"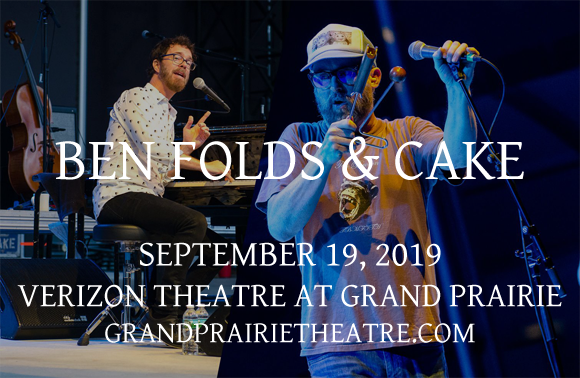 Throughout his nearly 30-year career, American singer-songwriter and record producer Ben Folds has performed a variety of different roles: from lead singer and pianist of alt-rock band Ben Folds Five in the 1990s to his current role as Artistic Advisor to the National Symphony Orchestra at the Kennedy Center in Washington, D.C. Folds is a successful solo artist, with three albums and three EPs to his name (in addition to his four studio albums and one live album with Ben Folds Five), and in 2008 he produced Amanda Palmer's debut album, Who Killed Amanda Palmer?. He has collaborated on projects with several prominent musicians and authors, including William Shatner, Regina Spektor, "Weird Al" Yankovic, Nick Hornby and Neil Gaiman, among others, and was a judge on the NBC a cappella singing contest The Sing-Off from 2009 – 2013. In 2017 he wrote the soundtrack for the Netflix original film Handsome.