Texas Trust CU Theatre | Grand Prairie, Texas
April 1st is not an actual holiday, is it? But there is something about April 1st that makes people anticipate it. Thus, this 2022, there is reason to celebrate April 1st for folks in Grand Prairie, Texas. April Fools Comedy Jam presents comedy legends Earthquake, Bill Bellamy, and Chaunte Wayans in one night at the Verizon Theatre Grand Prairie on Friday, April 1st, 2022! Spend the first of April laughing your head off! This special event features some of the most in-demand stand-up comedians in the U.S.! Watch this incredible show as Earthquake, Bellamy, and Wayans unitedly share hilarious stories and roast some audience members!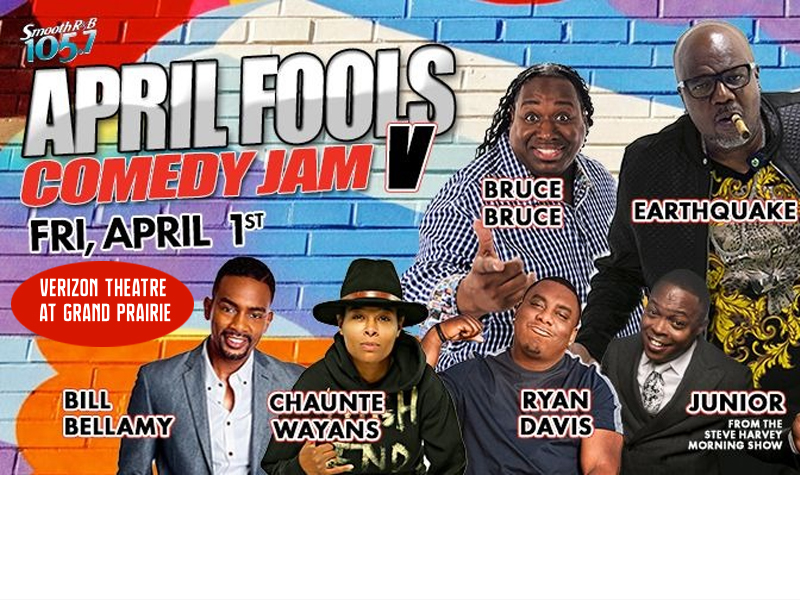 Legendary improv comedian and actor, Earthquake (Nathaniel Martin Stroman) had been around the comedy scene since the '80s. Many fans know him as the host of the popular radio show, Quakehouse. Earthquake, who's also a voice artist, has also appeared in films, such as Clerks II and The Longshots. His TV appearance credits include Everybody Hates Chris, The Neighborhood, and In the Cut.
Earthquake will be joined by Bill Bellamy, a well-known stand-up comedian who first gained notoriety in HBO's Def Comedy Jam. Bellamy has also starred in numerous notable TV shows and films, including Any Given Sunday, Love Jones, and How to Be a Player.
Lastly, Chaunte Wayans will be sharing the stage with Earthquake and Bellamy on April 1st. Wayans, who's a member of the famous Wayans family, has been starring in films and doing comedy since 2001. She appeared in the reality TV show, Trading Spaces in 2007. In 2013, she guested in Wild 'N Out, an improv game show hosted by Nick Cannon.
These comedians will not just make April 1st memorable, together they turn the infamous custom into a tradition. So, if you're looking for some laughs and something to celebrate about this coming April 1st, come on down to Verizon Theatre at Grand Prairie!